What Is Aggressive Driving?
All car accidents can cause a great deal of damage, but accidents caused due to aggressive driving are often times very devastating because of the violent actions and excessive speeds that are typically involved. Aggressive driving is defined as the operation of a vehicle in a manner that endangers another person or property. Aggressive driving behavior could include tailgating, disregarding traffic controls, failing to yield the right-of-way, and making unsafe lane changes.
Aggressive Driving in Arizona
Not all states have formally created laws on aggressive driving behaviors, but the state of Arizona has addressed certain aggressive driving laws. According to the A.R.S. 28-695, aggressive driving involves excessive speeding and any two of the following driving actions:
Unsafe lane changes
Tailgating
Failure to utilize traffic control devices
Driving out of control which poses an immediate hazard to other vehicles
Passing another vehicle on the right by driving off the pavement
Failure to yield the right-of-way
The actions of aggressive drivers are unacceptable and don't coincide with the driving standard that all drivers in Arizona are expected to follow.
Aggressive Driving Behaviors
The AAA Foundation for Traffic Safety found that millions of drivers engaged in aggressive behaviors in 2016. The study separated the behaviors into different categories and calculated the percent of individuals that were involved in each category. The specific categories are listed below:
Purposefully tailgating: 51 percent
Yelling at another driver: 47 percent
Honking to show anger: 45 percent
Making angry gestures 33 percent
Trying to block another vehicle from changing lanes: 24 percent
Cutting off another vehicle on purpose: 12 percent
Getting out of the vehicle to confront another driver: 4 percent
Bumping another vehicle on purpose: 3 percent
Aggressive driving is very dangerous for everyone driving on the roads or highways. It doesn't matter how cautious of a driver you are, you could still be affected by another individual's aggressive driving. The AAA Foundation for Traffic Safety study also found that approximately eight million U.S. drivers engaged in the examples of road rage listed above.
Consequences of Aggressive Driving
Aggressive driving poses a risk to the safety of every individual on the roads or highways. Arizona has criminalized aggressive driving by making it a Class 1 misdemeanor which means individuals could receive a fine of $2,500 and up to six months of jail time. Another consequence of aggressive driving in Arizona includes attending and completing traffic school lessons along with the potential of driving privileges to be suspended for thirty days.
Finding An Arizona Automobile Accident Attorney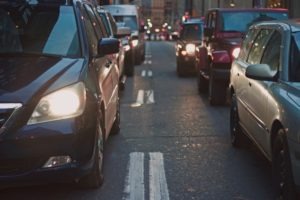 Aggressive driving is the cause of a large number of motor vehicle accidents. If you or a loved one has suffered injuries from an aggressive driver, you might be eligible to collect compensation for your injuries and related expenses. Consult with an auto accident attorney at ELG to explore all of your legal options. Our knowledgeable team of Phoenix attorneys wants to help you obtain the compensation you deserve and fight for your legal rights. Contact us today at either Phoenix or Mesa Arizona law offices at (623) 877-3600.