ADOT Rates Phoenix Roads as the Most Unsafe for Pedestrians in New Report
According to the Arizona Department of Transportation's newest Pedestrian Action Safety Plan that looks at statistics across the state regarding pedestrian accidents, Phoenix ranks high for pedestrian fatalities. The incidents when pedestrians appear to have the most increased risk of death on the roads is when they attempt to cross busy interstates and interchanges. When you have been struck by a vehicle, the liability can fall on the driver for your damages, injuries, and losses. After you have sought medical treatment, contact the effective Arizona pedestrian and bicycle accident attorneys at ELG Law to discuss your experience. We will examine your situation and provide you the legal guidance you need to move forward with a claim for recuperating costs associated with your medical bills, suffering, and property damage.
Locations Of Increased Pedestrian and Bicycle Accidents
If you are going to be on the roads walking, jogging, or bike riding, it is advisable to avoid the following roadways if possible to increase your safety:
Greenway Road/I-17

7th Avenue/I-10 Interchange

Cactus Road/I-17 Interchange

32nd St/SR 202 Interchange

Bethany Home Road/I-17 Interchange

Camelback Road/I-17 Interchange

Dunlap Avenue/I-17 Interchange

Indian School Road/I-17 Interchange

I-17/Bethany Home Road

I-17/Northern Avenue

I-10/67th Avenue

I-10/Dysart Road

I-17/Glendale Avenue

I-17/Indian School Road

I-17/Thomas Road
Common Reasons Behind Pedestrian Accidents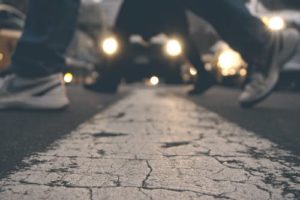 According to the National Highway Traffic Safety Administration, there are over 5,000 pedestrian fatalities due to being hit by cars each year in the United States. Drivers may be distracted while driving and not see a pedestrian crossing the road; drivers may also fail to observe proper traffic safety rules, like yielding and stopping at appropriate locations, such as red lights, stop signs, yield signs, or pedestrian crosswalks. Drivers are expected to exercise a reasonable amount of caution while operating their vehicle and when they fail to do so, the negligence can result in serious injuries for others.
In addition to the negligent behaviors of drivers above, others that can be dangerous include: 
Impaired driving

Speeding

Drowsy driving, being inattentive or not alert 
As for pedestrians, it is important for these individuals to also engage in behavior that increases their own personal safety when on the road. These behaviors include:
Walking while intoxicated

Not crossing the street at designated locations, like a crosswalk

Darting out in front of traffic

Distracted walking, such as talking on the phone, playing games on the phone, or listening to music
Arizona Pedestrian and Bicycle Accident Attorneys
Pedestrians and bicyclists do not have much surrounding them in terms of protection which makes an impact by any vehicle potentially deadly. Both drivers and pedestrians need to be vigilant and safe when they are on the roads. If an accident still occurs at no fault of your own, and you are injured as a result, the Nevada serious injury lawyers with ELG Law are here to advocate on your behalf. Call our Phoenix or Mesa Arizona law offices today at 623-562-3838.