Who Is Liable for Damages After a Truck Accident?
According to information from the National Highway Traffic Safety Association, more than 2,500 truck accidents occur each year in Arizona. It goes without saying that these serious incidents result in a much higher incidence of both severe injuries and even fatalities.
Because victims sustain more critical injuries as a result of truck accidents, victims and their families are often overwhelmed, facing mounting medical bills and extensive emotional trauma. That's why it's critical to know about liability in a truck accident.
Typically, driver error, road conditions, or vehicle malfunction cause vehicle accidents. On the other hand, commercial truck accidents may be caused by entirely different factors, meaning that multiple entities may be held responsible.
If you've suffered in an accident as a result of a truck driver's negligent actions or trucking company negligence, contact the Phoenix accident attorneys at ELG. Our team of truck accident lawyers in Phoenix and Mesa is here to help you in your time of need.
Proving Driver Liability After a Truck Accident
In the aftermath of a truck accident, you may be able to prove driver liability. Keep in mind that judges typically award punitive damages in cases where there have been grossly negligent or intentional actions in Arizona. If you want to file a claim after a truck accident in Arizona, the defendant would be the trucker or their employee.
Truck drivers that engage in risky driving behaviors and who act negligently are often to blame for a truck accident. Such negligent actions include:
Impaired driving
Speeding
Violating service hours
Distracted driving
Aggressive driving
Drowsy driving
Overloaded trucks
Proving Company Liability After a Tractor-Trailer Crash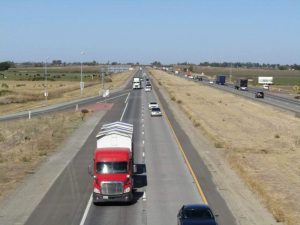 When a truck driver isn't responsible for a crash, their employer may hold fault. Generally, judges and lawmakers seek to discourage trucking companies from placing profits above the creation of a safe work environment. As a result, truck companies hold responsibility for the actions of their driver.
For example, Arizona trucking industry regulations state that a driver can only drive for so many hours before he or she must take a break. If a trucking company allows drivers to skirt these rules, they hold responsibility for any crash that may occur.
Furthermore, it's the responsibility of the trucking company to vet their drivers and ensure they are qualified. With that said, companies must supply drivers with thorough training.
Occasionally, the truck itself is defective or has defective components. Defects, including issues with the brakes, tires, or engine, can cause the truck driver to lose control. If this happens, the truck manufacturer may be held liable.
Finally, if the cargo company does not properly load the truck, they take the fault for the accident. Unevenly distributed items or overloaded trailers cause accidents since they may cause a truck to tip.
Truck Accident Attorney in Phoenix
If you or a loved one has been injured in a truck accident, reach out to our Phoenix truck accident attorneys at ELG. Contact us at (623) 877-3600 for a free consultation and no-hassle legal aid today. The nature of truck accidents means devastating consequences for victims and their families, but those affected can seek justice. With the help of our skilled, compassionate accident attorneys in Arizona, victims and their families can seek the compensation they deserve.