Are Commercial Truck Drivers Tested Enough For Drugs?
Driving a large commercial truck is not easy and requires extensive training, experience, and skill. Because truck drivers can inflict such major harm and damages on private automobiles and pedestrians in the event of an accident, a truck driver must not only meet the requirements in order to obtain their specialty license but they also must be extra cautious while operating their big rigs. The problem is that there are several instances where truck drivers where operating their massive commercial trucks inappropriately, unlawfully, and unsafely. As a result, so many catastrophic accidents that happen each year inflict significant bodily harm and pain from large truck accidents every year.
Arizona large truck accidents can be highly complex for victims and when it comes to obtaining the most compensation for damages, it is important that an Arizona personal injury claim is handled properly. Victims of Arizona 18-wheeler accidents need to secure the most compensation possible and when you work with the Phoenix 18-wheeler accident attorneys at ELG you know you will be getting the premiere and most effective legal representation that exists within the greater Phoenix area.
Are there Many Truckers With Previous Drug Charges Still Driving Their Big Rigs?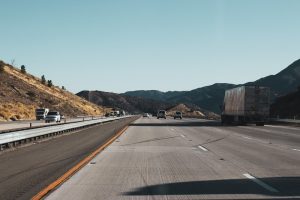 According to the Governors Highway Safety Association, the traffic data in 2017 suggests that drugs were present in the bodies of  43% of drivers who were involved in deadly crashes. There are no statistics relating directly to large commercial truck accidents, but despite this, the Federal Motor Carrier Safety Administration says that drug abuse is one of the top ten reasons why large commercial truck accidents happen.
Currently, under federal law, trucking companies must test their drivers. The following situations dictated when a commercial truck driver gets a drug test:
When a truck driver completes their training and receives their CDL, before they begin driving, they must pass a drug test.

Any crash where a commercial truck driver is involved whose aftermath includes injuries and deaths.

If a trucking company believes that a driver may be abusing drugs or alcohol they can randomly test.

If a driver hasn't worked for a long period of time, they can be subject to a test before they go back on the road.

Trucking companies are within their rights to employ random drug tests at any time.
All of these instances listed above help reduce truck drivers that would pose the threat of driving while intoxicated, but they don't eliminate the problem. Trucking companies must only test 25% of their truck drivers annually, so there are many situations where high-risk truck drivers continue to work without ever being tested for years on end.
Speak with an Arizona Personal Injury Attorney Today
You need all the compensation you are entitled to after suffering injuries from an Arizona large truck accident. If you lost a loved one in a large Arizona truck accident, you deserve to obtain compensation on their behalf. The Arizona personal injury attorneys at ELG will help you obtain the most compensation after your large truck accident. Don't hesitate to call today and get yourself scheduled for a free consultation by calling the Phoenix serious injury attorneys at (623) 877-3600.