Are You Required to Wear a Helmet to Ride a Motorcycle in Arizona?
Motorcycles are a beloved form of transport for many who enjoy the wind at their back and the thrill of the open road. The number of registered motorcycle owners has been steadily on the rise showing that the interest in riding these powerful bikes isn't going to dwindle anytime soon, regardless of the risks. Riding a motorcycle may be a leisurely form of fun, but it is also a very dangerous machine to operate. There are many considerations riders must be aware of before they hit the road to reduce their chances of being in an accident. Because there is not much protecting a motorcycle rider, when a crash occurs, the motorcyclist often bears the brunt of the destruction and damage both to their bikes and their bodies.
However, there do exist many forms of protective gear that a motorcyclist can wear to give them some amount of support should they have an accident. Helmets are maybe the most important piece of safety equipment a rider can wear. The majority of motorcycle accidents involve impact to the head, so wearing a helmet reduces a rider's risk for major, debilitating injury or even death. According to the data, Phoenix is not only one of the most dangerous places for motorcyclists in the state of Arizona, but it is also one of the riskiest cities for riders across the United States. According to the Arizona Department of Public Safety, there were 792 motorcycle accidents in Arizona in 2016 alone and 32 of them were fatal. 
What is Arizona Motorcycle Helmet Law?
There are several traffic laws in Arizona that are in place to improve the safety of all drivers on the roads. You have the right to pursue compensation if you have been in an accident in Arizona. When you have been hit and injured you need to ensure that you obtain a full settlement to help you pay for the damages you suffered and the medical care you need. The Arizona motorcycle accident attorneys at ELG will help you with your case and fight so that you see the most favorable outcome possible.
Statistics show that helmet use makes a big difference in terms of injuries and deaths for motorcycle riders. Even though this is true, not every rider chooses to wear one. In some states, helmet use is mandatory for all riders. In Arizona, only riders and passengers who are younger than 18 years-of-age must wear a helmet. Arizona motorcycle helmet law allows adults over the age of 18 to decide for themselves if they want to wear head protection or not. The law is also the same for passengers and riders who are driving all-terrain vehicles or motor-driven cycles.
The other stipulation under the law is that all riders and passengers must wear eye protection. This is a requirement for everyone who drives a motorcycle, all-terrain vehicle, or a motor-driven cycle no matter what their age. Goggles, glasses, or face shields all apply. If a bike has a protective windshield built-in, though, there is no longer a requirement for wearing eye protection.
Do You Need a Phoenix Motorcycle Accident Attorney?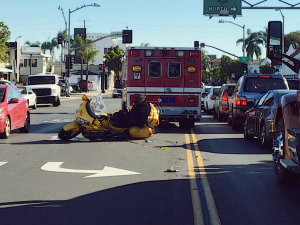 The Arizona motorcycle accident injury attorneys at ELG will assist you with your legal needs. The bilingual, Spanish-speaking Phoenix attorneys at ELG specialize in personal injury cases. Our firm has a wide breadth of experience winning the highest amount of compensation for our clients. Don't wait to contact our Phoenix serious injury attorneys immediately to schedule your free consultation at (623) 877-3600.