Arizona Bans Hand-held Mobile Devices
Starting January 2021 in Arizona, anyone caught with a phone when they are driving will face the potential of hefty citations. Governor Doug Ducey signed into law House Bill 2318 in April 2019, which bans hand-held devices while behind the wheel. If you are texting and driving, you will be pulled over. The bill aims to increase safe driving practices on the road and reduce distracted driving, which is a leading cause of accidents throughout the country.
House Bill 2318 And Personal Injury Claims
Distracted driving is a major factor behind accidents. The National Highway Traffic Saftey Administration (NHTSA) indicates distracted driving was the cause of 4.5 million crashes from 2010 through 2014. Many activities can account for distraction when behind the wheel, including:
Using a hand-held device to text or chat

Eating

Talking to passengers

Fiddling with the car radio, GPS, or climate controls

Anything that takes the driver's attention away from the road
When an individual is negligent in their actions and these actions lead to an accident where personal property destruction and personal injuries result in another party, they can be held liable for costs associated with these damages. Through the legal representation and support of an Arizona personal injury lawyer, like the ones at Escamilla Law Group, you can have a solid case put together that will help you recover the compensation you deserve for your injuries, damages, and distress.
This new law could have the potential to up the ante for personal injury claims. Should the liable party for the accident be proven to have been distracted at the time of the crash, your claim may gain strength and increase in its credibility.
Features of the Law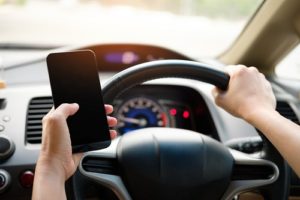 Some things you should know about how this new legislation will impact drivers across the state of Arizona include:
$150 find for first-time offenders

Up to $250 fine for two or more offenses

Serious injuries or fatalities that result from distracted driving are considered criminal offenses

Criminal offenses punishable by up to six months of jail time and a $2,500 fine
Even though, the NHTSA indicates that any activities which take the driver's concentration away from the act of driving make them considered "distracted," the rule has some cut outs. Phone conversations in the car are legal as long as they are done through hands-free technology. If you must use your handheld device in an emergency to call for assistance or if you are at a stop at a traffic light, you will not be liable for punishment.
Arizona Auto Accident Attorneys
Car accidents can be the cause of serious injuries in Arizona. The NHTSA estimates that over six million auto accidents occur across the country each year, and many times, injuries and even fatalities result in their aftermath. The aftermath of an accident can be very costly to the victim in terms of medical care and treatment, personal property loss or damages, and even long-term emotional pain.
You need a team of automobile accident attorneys in Arizona that will work aggressively on your behalf to help you obtain the much-needed compensation you deserve. Our Arizona automobile accident injury attorneys at Escamilla Law Group are here to help you by providing legal representation to defend your rights. Call our Pheonix or Mesa Arizona law offices today at 623-562-3838.