Arizona Motorcycle Accident Trends
Anyone who lives in or has visited Arizona knows of the beauty the state holds. Motorcyclists, in particular, appreciate the open roads and scenery that makes riding even more enjoyable. Unfortunately, motorcyclists are far more likely to have accidents and the outcomes tend to be much more severe than those who have accidents in passenger vehicles. There are fewer motorcyclists on the roads when compared to other vehicles, but motorcyclist injuries and deaths from crashes are disproportionately higher than crashes between cars. Motorcycle riding is very dangerous. In the state of Arizona in 2018, motorcycle fatalities came in at the fifth-highest rate of fatalities across the country, as reported by the National Traffic Safety Administration.
In our country, motorcycle deaths are far too common. Mississippi saw 40 deaths of motorcyclists for their 28,124 registered motorcyclists in 2018.  Texas also has a high rate of motorcycle deaths. In Texas, there are 364,690 motorcyclists and 490 died in accidents in 2018.  South Carolina and Florida are shown high death rates for motorcyclists. It makes sense that these states lead the nation in motorcycle deaths because they have far better environments and weather attractive to motorcyclists for riding conditions.
The data only proves that environmental factors weigh heavily on where motorcyclists thrive. In Montana and South Dakota where weather is often treacherous, motorcyclists crashes and deaths are among the lowest in the nation. In these states, motorcycle riding isn't as prevalent as it is in those states that have warmer climates. Both of these states, Montana and South Dakota have a death rate for motorcyclists of .75 and 1.36 respectively.
Motorcycle trends
Across the country, Motorcycle fatalities show a downward trend. There is a 5.6 percent decrease in deaths. In Arizona, on the other hand, deaths increased. The number of motorcyclists fatalities went up by 14.6 percent between 2016 and 2017. In 2016, there were 144 motorcycle deaths, but in 2017 they were 165. Interestingly enough, the state boasted a decrease in motor vehicle deaths from 5,251 to 4,798 during this same period.  If you have been injured in a motorcycle accident the Phoenix motorcycle accident attorneys at ELG Can help. 
Possible Factors For High Fatalities In Arizona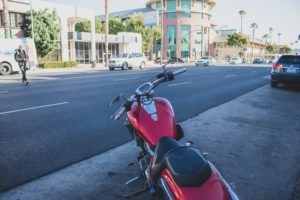 Safety experts evaluate the data both nationwide and in specific states if high occurrence for motorcyclists deaths. They do this to figure out how to make riding safer for those that enjoy this high-risk activity. Listed below are some of their conclusions:
Helmet use has proven to be a significant safety precaution for both motorcyclists and bikers. Those motorcyclists under age 17 have the requirement to use one but riders over this age are not required. It is optional for riders motorcycle riders 18 and older to wear a helmet. According to state law, tourists and residents alike don't have to wear a helmet while driving a motorcycle as long as they meet the age requirements. While those opposed to helmet use say this safety gear limits visibility and inhibit personal freedom there is no denying the fact that studies show helmet use is prominent in reducing serious injuries when in a crash. It has been shown that helmet use reduces death by 37 percent. Today, only 19 states and Washington, D.C., have universal helmet laws for adults. In 2018, approximately 64 out of the 150 motorcyclists deaths where riders didn't wear a helmet.

The

Governors Highway Safety Administration

indicates that 27 percent of fatal motorcycle accidents nationwide involved riders without a proper license to ride. 

Driving sober is important for all drivers. Never ride a motorcycle if you are under the influence of drugs or alcohol. Intoxication causes driver error and ends with serious accidents.

Motorcycles can go very fast and speed is a factor behind many accidents including those that involve all vehicles such as motorcycles, passenger vehicles, and trucks. Riding at excess speeds increases the likelihood of crashes that will have serious injuries.

The weather can also play a role. Rain and dust storms reduce visibility and they make riding a motorcycle much more difficult. If you encounter a severe weather situation while on a bike, pull over until the worst part passes.
Getting Help From A Motorcycle Accident Attorney In Arizona
The knowledgeable Arizona motorcycle accident attorneys at ELG will help you throughout the entire personal injury claim process. Call the attorneys at ELG today and set up a free consultation to discuss your motorcycle accident experience at either our Phoenix or Mesa personal injury law offices at (623) 562-3838.