Arizona Motorcycle Accidents
When motorcycle riders get into accidents, they are much more susceptible to getting injured than automobile drivers. Motorcycle accidents can leave individuals with very serious and even fatal injuries. In 2016, there were a total of 5,286 fatal motorcycle accidents. No matter what causes a motorcycle accident, they can all leave individuals feeling devastated. It is important to understand the possible factors that cause these accidents so drivers can be more alert on the roadways of Arizona. 
Possible Accident Factors
Intoxication: Even though it is illegal, people continue to ride motorcycles and drive cars while intoxicated. This type of behavior puts both riders and drivers at risk. Never ride or drive under the influence and make sure you report someone if they are on the road intoxicated.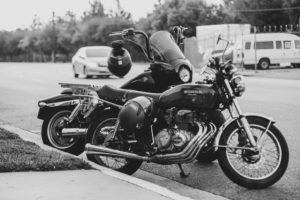 No Helmet: Helmets are not required for riders who are above the age of 18. This means that tourists and residents can leave their helmets behind and cruise throughout the state. This helmet law can differ per state so it is important to understand the laws if you are entering a different state. Although helmets are used to protect motorcyclists from serious injuries, drivers claim that helmets limit their visibility of the entire road. Health professionals claim that wearing a helmet can reduce the risk of injuries. The CDC reported that helmets reduce head injury risk by 69 percent and lower the risk of a fatal accident by 37 percent.
Speeding: Speeding on a motorcycle can be very dangerous. The faster you drive on the motorcycle, the higher the risk of losing control. This could cause you to sway into other lanes, or crash into other vehicles or properties on the side of the road. When you speed on a motorcycle, it becomes difficult to react to outside factors as well. Drive the speed limit to lower the risk of a motorcycle crash.
Environment: Different weather conditions could be the cause of a dangerous motorcycle accident. Rain or dust storms can cause motorcyclists to lose sight of things on the road. Motorcyclists are encouraged to pull off to the side of the road during poor weather conditions. 
Time of Day: The time of day can make an impact on accidents that occur. Driving at night can make it very difficult for motorcyclists to see and for other vehicles to see motorcycles. Driving in the hot sun for long periods can be unsafe for motorcyclists as well. 
Finding An Arizona Motorcycle Accident Attorney
Consult with a motorcycle accident attorney if you have sustained injuries in a motorcycle accident in Phoenix. These situations can be very overwhelming so it is important to have a trustworthy legal team on your side. The Phoenix attorneys at ELG will evaluate your accident and answer all of your questions along the way. Our attorneys will guide you and offer their best legal advice so you can recover the maximum amount of compensation. Contact us today to determine how our motorcycle accident attorneys can help you with your legal matter. Call us at either Phoenix or Mesa Arizona law offices at (623) 877-3600 to set up a consultation.