Arizona Personal Injury Claim Information Everyone Should Know
Hopefully, you will never be in an accident where you sustain injuries. If you are, it is helpful to familiarize yourself with a basic understanding of the process in order to better protect your rights.
Who Is Eligible To File A Personal Injury Claim?
It is normal to feel a wide breadth of emotions after an accident, especially when there are injuries. You may experience frustration, anger, fear, or anxiety. There are many things to consider, and the more severe the crash, the greater the questions and the unknowns become. You'll have many concerns and questions swirling around, such as:
Where will the money come from for medical bills?

Will I be able to work?

What can do about this?

Do I have a valid claim to help me with my injuries and damages?
The stress of it all is a heavy burden for anyone to bear. A Phoenix accident attorney can help answer all these questions and put your mind at ease so you can focus on healing and getting better. If you have been injured in an accident that was not your fault, the negligent party is responsible and you could have a strong case for a personal injury claim to help you take care of all these costs and concerns.
Defining A Personal Injury Claim
The physical and emotional trauma you have sustained from the negligent actions of another constitutes a personal injury. Even wrongful death is considered a reason to support such a claim. Negligence is the key, and anyone or any company that fails in their expected duty to be responsible and safe during a task or maintaining a property can be deemed negligent. 
A good example would be a driver who fails to obey the rules of the road while driving and is speeding when they hit you. The driver who hit you breached their duty to drive safely, and injuries, as well as your property damages, resulted. They were negligent.
Arizona Personal Injuries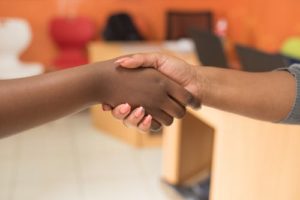 In the state of Arizona, a comparative negligence system is in place. What this means is that both parties can be held accountable for a specified amount of responsibility for the accident. Comparative negligence, or comparative fault, means that the plaintiff can recover a portion of the total settlement amount based on how responsible for the accident they were deemed to be. 
For instance, it could be determined that the plaintiff is responsible for 5% of the cause of the accident. Then, the final settlement amount that is recovered would be the total minus 5%. If you were found to intentionally cause the accident, you could lose out on any ability to recoup compensation for your damages.
Phoenix Personal and Serious Injury Attorneys
Injuries from accidents can have very long-lasting effects on individuals and families. There are physical, emotional, and financial impacts which can affect one's quality of life. The importance of obtaining legal representation is crucial to ensure your rights are protected and justice is served. An experienced Arizona personal injury attorney will provide your strongest chance of obtaining your highest amount of compensation. The Arizona serious injury attorneys at ELG Law are here to help you after an accident. Call ELG Law today at 623-562-3838 and set up a free consultation to discuss your experience with one of our Phoenix personal injury attorneys.