Arizona Work Zone Safety
Work-zones can create unexpected hazards for motorists. When a motorist is caught off-guard by a work zone or is confused by the set-up of a work zone, they can easily cause a traffic accident. There are several ways this can happen including:
Suddenly braking 

Swerving to miss cones and the work zone

Ignoring crew flaggers

Crashing into the work zone
These are just a set of examples of what can happen when a motorist becomes bewildered in a work zone. Work-zone safety is extremely important for both the construction workers in the work zone as well as motorists on the road near the work zone. According to statistics, though, it is drivers and the passengers in their cars that are the most vulnerable individuals to lose their life in a work zone accident. As much as 80% of the deaths from work zone accidents are drivers and car occupants. The most common cause of accidents around work zones is from rear-end collisions. 
What is Arizona Doing to Promote Work Zone Safety?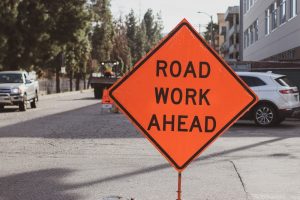 The state of Arizona is actively working on implementing various technologies to support better work zone safety throughout the state. A work zone warning and the alert system allows drivers commercial vehicles to obtain information about a work zone. In addition, the Federal Motor Carrier Safety Administration indicates that the state is examining connected vehicle systems, to strengthen Innovative Technology Deployment. The hope is that these systems will reduce heavy truck crashes in work zones.
All drivers, both commercial and private can reduce their risk for a serious Arizona work zone accident by doing the following:
Take extra precautions in work zones and be extremely attentive to what is happening around you, the signage, the lane changes, the active work vehicles, and the workers on the site.

Don't speed in a work zone so you can react safely to changes in road patterns and unexpected hazards.

Allow plenty of space between you and other cars around you so if a road hazard does arise, you have plenty of room to brake and avoid a rear-end crash. Also, keep a fair distance from work zone workers and their equipment.

Watch for road crew flaggers and follow their directions. They will help you safely navigate your way through the Arizona work zone.

Call 511 to get a heads up in advance of what the road conditions will be for the route your traveling.

It may feel like an inconvenience to be held up while you are driving, but stay patient and calm. The roadwork that is being done is to improve your ability to travel.
Speak with an Arizona Car Accident Attorney
If you were hit and injured in an Arizona car accident, the Phoenix personal injury attorneys at ELG can help obtain the most compensation out of your Arizona personal injury claim. The Arizona car accident attorneys at ELG only work on personal injury cases in Arizona. We have the experience and resources to ensure you see a favorable outcome after your Phoenix car accident experience. Call the Arizona personal injury attorneys at ELG to set up a free consultation today at (623) 877-3600.