Can a Bicyclist File a Personal Injury Claim in Arizona?
Bicyclists across the state of Arizona are quite prevalent. The state boasts warm, sunny weather and beautiful scenery to appreciate. Bicycling is a healthy and enjoyable outdoor activity that many people take pleasure in doing. Bicycles on the road are at risk for an accident just like cars are. Bicyclists that get into an accident on the road with a vehicle are far more likely to suffer serious injuries because of the lack of protection they have as well as their smaller size when compared to a car or truck.
It is very important that if you were injured in a bicycle accident you obtain compensation to help you with all of our costs. Pursuing a personal injury claim when a bicyclist is involved can be complicated, specifically when assigning fault. An Arizona bicycle accident attorney will be extremely helpful for a victim who deserves to obtain a fair settlement. 
What to do after A Bicyclist Accident in Arizona
If you are hit by a car while riding your bike in Arizona, call the police if you are physically able. A police officer will ensure that you obtain the correct insurance information from the driver who hit you. Additionally, you have the opportunity to tell the officer what happened. Potentially, depending on the details of the collision the officer may decide to cite the driver. Should this happen, you will have a much better likelihood that you can pursue a claim that will result in a settlement to pay for your damages. 
When you were following all the rules of the road and riding responsibly such as stopping at stop signs and signaling when you intend to turn, you will have a stronger case to make against the driver who hit you. However, not every Arizona bicycle accident will result in the car receiving a citation. Bicyclists can also be responsible for accidents and if they are riding their bicycles negligently, they too can be cited by law enforcement.
If you are able, taking photos of the accident scene, of your injuries, of the damages to your bike and helmet, and damage to the car that hit you will also be important for your claim. Similar to a car accident, your injuries must be treated to have a successful recovery. Don't wait to see your doctor and obtain medical attention. Make sure to keep all of your medical records, doctors' prescriptions and reports, as well as receipts for appointments. This will come in handy when you are supplementing your case. 
Being wary of the driver's insurance company is warranted. The insurance company is going to want to talk with you before you have an attorney to get you to say something that could jeopardize your case. They will try very hard to reduce or eliminate any potential financial settlement they pay you. You should speak with your Arizona attorney before you talk with the insurance company so you aren't short-changed.
Find a Phoenix Bicycle Accident Attorney Today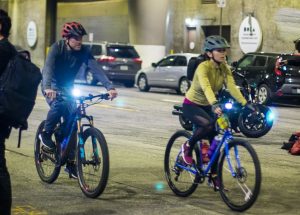 When it comes to Phoenix bicycle accidents, enlisting the help of an attorney who has experience working with these types of accidents is critical. Navigating traffic laws for bicyclists and their injuries isn't clear-cut or easy. The knowledgeable Phoenix bicycle accident attorneys at ELG are well-known and well-respected in the area for providing exceptional representation of the highest quality to the clients we serve. Call ELG's Spanish speaking, bilingual Pheonix personal injury attorneys today at (623) 877-3600 to schedule your free consultation.