Common Causes Behind Arizona Delivery Truck Accidents
Throughout the nation, streets and highways are teaming with many types of vehicles including fleets of cargo and delivery trucks deployed by popular parcel delivery service companies. UPS, FedEx, DHL, TNT Express are just a couple of the most frequently used. These companies aren't the only players out there sending delivery trucks full of goods and cargo that must get to their destination on time. In the United States alone, there are more than 7,500 companies of varying sizes that make deliveries every day. Altogether, the industry reports $90 billion in annual revenue and has been growing steadily.
Similar to the issues that commercial big rig truck drivers face, time is of the essence. These delivery drivers have routes that have a significant amount of stops that they have to make to get their cargo to its destination as quickly as possible. The faster they do it the better. The rushed nature of the business can cause these drivers to engage in unsafe driving practices. When delivery truck drivers aren't responsible or careful on the roads, they put themselves and others around them in serious danger of a traffic accident. If you have been hit by a negligent delivery truck driver in Arizona and were injured as a result, call the Arizona personal injury attorneys at ELG.
How Do Delivery Truck Accidents Happen?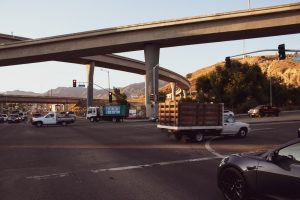 Delivery trucks may not have the massive size of commercial trucks, but still, they are not small vehicles. Accidents involving delivery trucks can inflict significant injuries and even death in the most tragic instances. Being a delivery truck driver is not an easy job, there is much stress combined with an emphasis on efficiency and speed. To complete deliveries drivers may engage in the following:
Drive faster than the speed limit or drive faster than is safe during hazardous road conditions.

Engage in distracted driving.

Not be a respectful or mindful driver cutting off other cars or ignoring the "right of way" of other drivers.

Recklessly run traffic lights, roll through stop signs, and cut off pedestrians in crosswalks.

Fail to use turn signals when making turns or changing lanes.
If you were injured in an Arizona truck accident that was caused by the reckless behavior of a delivery truck driver, you are entitled to filing an Arizona personal injury suit against the driver. Your suit will be successful if you can clearly prove that the driver's actions were the cause of your accident and that your accident was what lead to your injuries.
Take Your Arizona Traffic Accident Case to an Arizona Personal Injury Attorney
Recovering from serious injuries is a challenging task by itself, taking on the legal burdens of filing an Arizona personal injury claim is a tall order for a victim to also manage. When you need to secure the most compensation possible after your Arizona car accident, it is important that you have the most talented and resourceful legal team supporting you. The Phoenix large truck accident attorneys at ELG have the experience you want on your side to deal with local laws and ordinances as well as find and gather all the evidence necessary to build a strong case on your behalf. Call ELG today to schedule your free consultation at (623) 877-3600.