Do Ankle Sprains Qualify for an Arizona Personal Injury Claim?
If your ankle is sprained walking is going to be much more challenging. The ankle takes a lot of wear and tear because if you are an able-bodied individual it is likely that you are on your feet for some amount of time each day. Whether it is standing or walking, jogging, or riding a bike, the ankle has to support a lot of pressure on a regular basis. Because the ankle takes on so much weight and wear, this portion of the body is more vulnerable to injury. 
If you injured your ankle during the course of regular daily activities at your home, you are going to be responsible for the medical treatment that is required to help you heal. However, if you were on another entity's property and some hazard that existed caused you to slip and fall, you may have a case to file an Arizona personal injury claim. When you have been injured on another person or entity's property, connecting with the Arizona slip and fall attorneys at ELG will help you figure out whether or not you have a valid case to file a Phoenix personal injury claim. The Spanish-speaking, bilingual Arizona serious injury attorneys at ELG have extensive experience providing effective and strategic legal counsel to victims of Arizona injury accidents.
Can Ankle Sprains Qualify for Filing an Arizona Personal Injury Claim?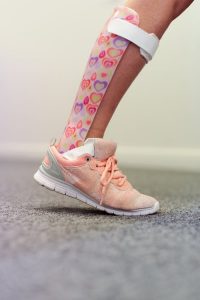 If you were in an Arizona car accident or an Arizona slip and fall accident where the property owner or other driver was liable for your damage, then you have the right to sue for compensation to help you pay for the treatment and other expenses that result. Your damages can include your medical expenses, wages missed if you were unable to work due to your injuries, as well as property damages and pain and suffering. Working with an Arizona personal injury attorney is a good way to learn not just about the strength of your claim but also about its value.
Slip and fall accidents and traffic accidents in Arizona can have a wide range of outcomes. Mild to severe damages may be sustained by a victim. No matter how mild or severe, any victim of an Arizona injury accident is entitled to obtaining compensation from the liable parties that had responsibility for their harm. The Phoenix serious injury attorneys at ELG will investigate your accident situation, collect all pertinent evidence and information, and put together a solid personal injury claim to yield the most compensation possible. The attorneys at ELG will fight aggressively on your behalf so that justice is served.
Speak with an Arizona Personal Injury Attorney Today
You may feel like your injuries after your Arizona slip and fall accident aren't serious enough to file an Arizona personal injury claim. You could very well be wrong about that. There is no reason why you should have to pay for the costs that come out of an accident situation that was not your fault. To learn more about your options when it comes to filing a Phoenix personal injury claim, schedule your free consultation with the Arizona personal injury attorneys at ELG by calling (623) 877-3600.