Do School Buses Need Seat Belts?
Despite being entrusted with the day-to-day safety of our children, school buses aren't federally required to have seat belts installed. As a parent, it's understandable to be concerned about your child's safety, and you might be confused as to why they don't have a seat belt on their day-to-day transportation.
The Current School Bus Situation
As mentioned prior, no federal law mandates seat belt installation on school buses, but for what reason? Even without seat belts, school buses are by far the safest vehicles on the road. Students are approximately 70 times safer in a school bus than in a regular car, which can be attributed to a variety of reasons:
The school bus's profile.

School buses are immense, weighty vehicles, and their passengers sit higher than most other vehicles on the road. This prevents rollover, minimizes damage to a bus in the case of an

auto accident

, and further reduces the jarring of passengers.

The seating.

School buses are designed with padded, close-knit, tall seats in a "compartmentalized" approach that ensures that children will likely collide with a soft cushion in case of an accident.

Ease of visibility.

School buses can often quite literally be seen from a mile away; red flashing lights, their size, and their distinctive color all easily alert even inattentive drivers.

The law.

School buses are extensively protected by laws that help to minimize accidents. In addition to harsh penalties in the event of crashes, it's illegal to pass or get too close to a school bus while it's onboarding or offloading students.
Are Seat Belts Worth It?
The primary limitation for implementing seat belts on school buses is simple yet challenging to overcome: funding. Only six states require seat belts in school buses thus far, several of which do so only partially, such as with buses manufactured after certain dates or with allowances for school boards with insufficient funding. Despite the cost, seat belts are far from redundant, and are proven to further protect children in the event of an accident; thus, while challenging, it's ultimately advisable for every school bus to implement two or three-point seat belt restraint systems.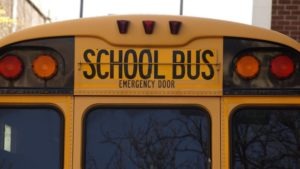 This isn't the primary focus of most states, as students are many times more likely to be hurt while getting on or off a bus—this does happen periodically because of irresponsible drivers recklessly ignoring boarding zone laws, but it primarily occurs because a school bus driver (with limited visibility) starts to pull away while a student is rushing to catch the bus.
Arizona School Bus Auto Accidents
Although Arizona has considered making seat belts in school buses a legal requirement recently, no such legislation has passed yet. Only four to six children die on school bus children annually, but many more are injured, and for the families of these unfortunate few, it can be difficult to know who's legally responsible for hurting your child: the bus driver, another motorist, the school board, or someone else entirely. ELG ACCIDENT ATTORNEYS's compassionate auto accident attorneys can help, so if your child has been injured in a school bus in Arizona, call us today at (623) 877-3600 to schedule a free consultation and get any advice or legal representation you might need.