Drowning Prevention Tips
The warm climate in Arizona and the ultra-hot summers in the state have to lead many to install swimming pools at their homes or become members at local pools to keep cool in the heat. Because the weather is so warm year-round, there is a lot of people swimming which lends to increase the risk of drowning. Children, in particular, are at high risk for drowning accidents and in Arizona, the rate of child drownings is almost double that of the national average.
Caregivers and parents must never let their children swim unattended. When there is a pool in the home, there are specific proactive safety measures that should be taken to keep your children safe. If you have little ones in the home who enjoy a good splash, you can't blame them. Consider these tips to prevent drowning accidents from happening to your children.
Tips To Prevent Drowning
All pools should be surrounded by a strong barrier like a high fence to keep out any little ones who are want to get in without adults around to watch them. The fence should also have a child-proof lock so they can't figure out how to open the gate. If they can open the gate, the fences are essentially ineffective.

Any part of the home that is near a pool and can be breached must be locked. Think windows or sliding doors, etc. Always keep these openings locked and secured because little bodies have been known to get through these openings when they are given the chance. 

Don't leave anything that a child would find appealing by a pool. Minimizing the attraction for a little one to try to get near a body of water can help lower their risk for trying to enter and having an accident. Toys, bikes, and treats should not be left out near a pool where curious children can see them.

Make sure your child knows how to swim. Hiring a swim coach or taking them to swim lessons teaches them a valuable life lesson. If they are ever in an emergency they will know how to react in the water. Even with lessons, it is not safe to allow children to swim alone.

Always make sure your child wears inflatable safety swimming gear as an added layer of precaution. Keep these items easily accessible by your pool. Learn child CPR because when an emergency arises, seconds and minutes can be the difference between life and death or serious injury. You must be the first line of defense ready to act when your child needs help.
Finding A Drowning Accident Lawyer In Arizona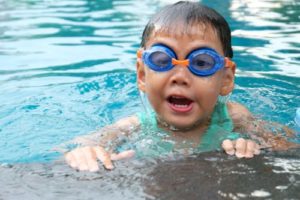 Even with these safety measures put in place, accidents can still happen. You must always be with your child when they are playing in the water. When they are out of the home and going to be swimming with friends make sure they know they must wear their swim vests and that they must not get into the water if there are no adults around.
If you or your child are injured in a swimming-related accident the Arizona drowning accident injury lawyers at ELG have years of experience helping victims of water-related accidents obtain compensation. Drownings can turn into death quickly and if you lost a loved one in a drowning accident, we will put together a strong wrongful death claim on behalf of your loved one. The Phoenix wrongful death attorneys are dedicated to fighting for justice on behalf of victims in the state of Arizona. 
Call us at 623-562-3838 to set up your free consultation at either of our locations in Phoenix and Mesa, Arizona for your convenience.