Electric Scooters And Bikes In Arizona
Scooters and bikes are becoming very common throughout larger cities and college towns. Riding these scooters is a great way to explore a large city or get from one building to another without having to deal with the stress of parking. It's important to understand how they work, the state laws associated with them, and different safety tips. 
Things To Know About E-Scooters And E-Bikes
Electric bikes and scooters are becoming more popular throughout the entire country. These shareable scooters and bikes are typically available to rent in larger cities or college campuses. They are convenient because they are eco-friendly, dockless, battery-powered, and available for short-term rent through smartphone apps.
Renting these scooters and bikes is simple and you can do it anywhere at any time. Once you download the app, you just have to create an account and link your profile with a credit card. Once you have selected a vehicle to rent, utilize the app to unlock it and then the timer starts. You will notice a timer that goes until you end the ride. The rental fees for the shareable scooters and bikes are about $0.15 per minute. These vehicles are perfect for when you are in a rush or just trying to leisurely explore a new city because you can pick them up and drop them off anywhere within the designated areas shown on the map.
Many different companies own these rental vehicles. The most popular companies are Lyft, Bird, Lime, and Uber. These companies will pick their vehicles up every night to recharge them and then deliver them in the morning to the most popular spots. 
Arizona Law
Under Arizona law, you do not need a driver's license to ride the electric bikes and scooters. These types of vehicles are legal to ride on roads and bike paths. Bike and scooter riders must pay attention to the road signs when they are riding on the roadways. Arizona law states that electric scooters cannot exceed 25 mph and electric bikes must be operated at speeds of less than 20 mph.
Safety Tips
According to a Consumer Reports Investigation, since 2017 there have been 1,500 electric scooter injuries reported. While the scooters are very convenient and eco-friendly, it is important to follow these safety tips below to minimize injuries from occurring.
   

Wear a helmet

   

Practice riding in an open space before going on a busy road

   

Understand the laws and where you can ride

   

Make sure the breaks work before you ride far
The Centers for Disease Control and Prevention conducted a study and found that the most common injury from electric scooter accidents involved head injuries at 45 percent and then upper extremity fractures at 27 percent. These scooters can create a list of unique hazards to the riders and pedestrians around them. The steps listed above are simple timeless ways to ensure you have a safe ride on electric scooters and bikes.
Finding An Arizona Accident Attorney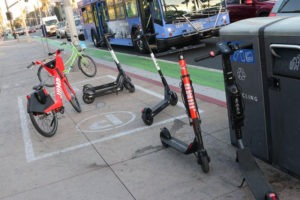 Electric scooters and bike accidents can leave individuals with injuries ranging from minor bruises to serious life-threatening injuries. If you have sustained an injury involving an electric scooter or bike, consult with an Arizona attorney at ELG to explore all of your legal options. The knowledgeable attorneys will determine the best legal claim to file on your behalf. Our team of Phoenix attorneys wants to help you recover the compensation you deserve. Contact us at either Phoenix or Mesa Arizona law offices at (623) 877-3600 to determine out an ELG attorney can assist you.