Filing Car Accident Claims Against the Government
Though it may be daunting, victims and their families can file car accident claims against the government. In fact, Arizona allows injury victims to file a claim against the government for damages in several situations. However, there are specific requirements for filing these claims. Also, government entities and officials may have immunity in certain kinds of claims. 
If you've sustained injuries after a crash with a government vehicle or an accident caused by a government employee, read below and contact our attorneys right away.
The Government's Liability for a Car Accident
Oftentimes, government entities are immune from liability. However, there are many situations where a government entity or public employee may be held liable for damages. For example, the government may hold liability for an accident caused by any of the following:
Obstructions to another driver's line of sight.
Roadside hazards.
Construction zones not marked properly.
Rail-highway crossings that are unreasonably dangerous.
A state agency may have had responsibility for maintaining the road with these defects that contributed to the crash.
Immunity for Specific Car Accident Claims
Keep in mind that Arizona law ensures qualified immunity to public employees acting within the scope of their employment. By law, these employees are not liable for injuries that occur in certain situations. For example, if a driver of a vehicle sustains injuries that can be attributed to violations of the statutes below:
Time to File a Claim Against the Government
You must file your claim against the Arizona government within 180 days of the injury date. Furthermore, a written claim must be made naming the agency responsible for the injury. And when you file your claim, you must include the following information:
Description of the events.
How you sustained your injuries.
Amount of damages claimed.
Evidence supporting those damages.
Authorities from the state have 60 days to respond to claims. If a response is not sent in this time period, you can consider the claim denied. At this point, you may be able to file a lawsuit against the agency in question.
Remember that this 180-day period to file a claim may be different in incidents involving minor children or a victim declared incompetent in court. If either of the above applies, the victim has 180 days to file a claim after reaching the age of 18 or being declared competent in court.
Personal Injury Attorneys in Arizona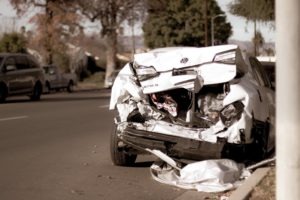 Different laws govern a citizen's ability to pursue compensation for car accident injuries involving a government entity. However, you may be able to secure compensation based on your situation. Our Phoenix accident attorneys can help you determine if you are eligible to file a claim.
Call us today at (623) 877-3600 to request a free consultation. Our injury attorneys have years of experience when it comes to advocating for victims and their families.