GM Issues Recalls for 2019-2021 Automobiles
There are several safety features built-in to our automobiles. The car manufacturing industry is constantly researching and testing vehicles to find ways to improve safety in the event of a crash. One safety feature that has been included in cars as far back as 1949 when Nash Motors Company became the earliest American automobile manufacturer to offer the option was seatbelts. Later in the 1960s, seatbelts became a standard option in the construction of automobiles, and with good reason.
Many studies have been done on the efficacy of seatbelts and the results are overwhelming regarding how they improve the safety of car occupants when a car crash happens. According to the Centers for Disease Control and Prevention, in the United States, automobile collisions are responsible for the most deaths in individuals one through 54 years of age. Wearing a seatbelt will reduce the risk of sustaining serious injuries in a crash and seatbelts drastically cut the risk for death. When seatbelts are used properly, the CDC says both death and catastrophic injuries are reduced by a minimum of 50%.
Recent Seatbelt Recalls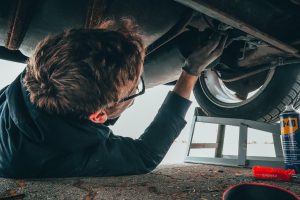 Recalls happen all of the time. When a recall happens, a consumer will be notified and given instructions to have the problem fixed. Recently, General Motors issued a recall that affects 624,000 automobiles which they report seat belt brackets may not be secure. Because of this, the car models with unsafe seatbelt brackets will not be able to provide the required restraint to keep the car's occupants from harm when a collision happens. The following vehicles are included in the recall:
CheverolCebet Silverado  and GMC Sierra pickup trucks that were manufactured between 2019 through 2021;

Chevrolet Suburban, Tahoe, and GMC Yukon manufactured in 2021;

Silverado 2500 and 3500, GMC Sierra 2500 and 3500 that was manufactured in 2021.
GM has indicated that they will be connecting with consumers to inform them about the issues and how to have the problem examined and fixed. It is incredibly important that your seat belt restraint system is properly installed and working correctly. If you are contacted with information about your car needing to go to the dealer for an inspection and repairs or replacement of any parts by the manufacturer, it is vitally important to your health and safety and those that ride with you that you follow through.
In the state of Arizona, about 86% of adults report wearing their seatbelt all the time when in the car. The number of Arizonians who use seatbelts isn't far off of the national average of 87%. Seatbelt laws in Arizona are considered secondary meaning that anyone who is supposed to wear a seatbelt but violates this law can only be ticketed if the car was pulled over for some other infraction. Those who are sitting in the front seat and drivers must have a seatbelt, and anyone in a moving car who is under the age of 16 must be buckled up. 
Speak with an Arizona Car Accident Attorney Today
If you were injured in a car accident you have the right to pursue compensation by filing an Arizona personal injury claim. Should you be unable to come to an agreement with your claim, you can file a lawsuit and take your case to court for the compensation you need and deserve. To help you manage your claim, contact the Arizona personal injury attorneys at ELG at (623) 877-3600 today to schedule your free consultation.