Holiday Travel Risks and How to Reduce Them
The holiday season is a time of festivities, get-togethers with friends and family, and travel. While the holiday season is something to look forward to and to enjoy it is also a time for travelers to be aware of the safety risks that exist on the roads. The Arizona Department of Transportation (ADOT) reported that in 2017, eight lethal crashes took place on December 22nd. 
Travel risks during the holiday are increased for many reasons. First, more people are on the roads, during the day and night as adults are taking time off of work and children are out of school. The busy holiday season comes in the winter months, wherein some regions of the country, also have sleet, ice, snow, and rain. This inclement weather makes for treacherous travel conditions. 
Additionally, families are frequently traveling with cars full of kids, which can be distracting for the driver. Distracted driving kills approximately 9 Americans every day and injures over 1,000 according to the Centers for Disease Control and Prevention (CDC). Distracted driving increases the risk that a crash will occur. Another factor in crashes is the number of holiday parties that also come with higher alcohol consumption. Increased numbers of individuals drinking and driving result ultimately leads to increased traffic accidents.
Fatal Holiday Crashes In Arizona From 2013 To 2018
17 people lost their lives on Thanksgiving day in 2017.

11 people lost their lives on Christmas day in 2017.

13 people lost their lives on New Year's Day in 2017.

Deaths on Thanksgiving, Christmas, and New Years from 2013-2018 were higher than the previous five years.

In 2017 there were 57 fatal traffic accidents.

In 2016, there were 48 fatal traffic accidents.

In 2015, there were 52 fatal traffic accidents.

In 2014 there were 42 fatal traffic accidents.

In 2013 there were 47 fatal traffic accidents.

In 2017 five fatal traffic accidents on Thanksgiving were a result of alcohol consumption.

In 2017, three fatal traffic accidents on Christmas were a result of alcohol consumption.

In 2017, five fatal traffic accidents on New Year's Day were a result of alcohol.
Safe Holiday Driving Tips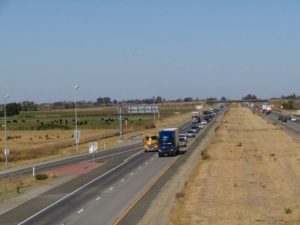 Given the reality that serious, even fatal crashes increase during the holiday season it is important to be aware that the risks exist and to understand how to reduce them to drive safe. 
Vehicle maintenance is important year-round, especially during the holidays where the probability of accidents increases. Ensuring your car is road-safe will reduce your chances of an unexpected circumstance that can lead to a crash.

In the event of a crash during the cold holiday season, make sure you carry with you emergency supplies such as jumper cables, orange cones, warm clothing, and accessories like blankets, a cell phone with a car charger, and make sure your phone has emergency contact information.

Be alert while driving and keep extra distance between your car and others. Drive within the speed limit or slower depending on the weather conditions.

If you drink alcohol at an event, have a backup plan for travel. Always have a designated driver, the number for a drive share or taxi service, or stay overnight if possible.
Arizona Car Accident Attorneys
The Phoenix serious injury attorneys at ELG will help you with your personal injury claim when you have been injured in an accident that was not your fault.
You will need compensation to help you while you are recovering from injuries and our team of Phoenix car accident attorneys will fight aggressively on your behalf to ensure you see a fair settlement. Call the attorneys at ELG today and set up a free consultation. We are here to discuss your accident experience at either our Phoenix or Mesa personal injury law offices at (623) 562-3838.