How Can Arizona Pedestrians Increase Their Safety?
Arizona is the second most perilous state in the nation for pedestrians. Pedestrian accidents may not be the first type of accident you think of when you think of traffic incidents, but the truth does not only do they happen often, their numbers are rising. The Governors Highway Safety Association says that local roads make up 35% of all pedestrian fatalities that take place in the country. Arizona lost close to 250 pedestrians in traffic accidents in 2018. That is 250 lives too many.
While a pedestrian cannot totally eliminate their risk for a traffic accident there are steps they can take to be more cautious when they are on the road. Anything a person can do to limit their vulnerability to being in an Arizona pedestrian accident is a good thing. Taking these proactive steps will help pedestrians decrease the chances that they could be hit. 
Pedestrian Safety Tips
Distracted driving is a major issue that affects not only the safety of other individuals on the road but also pedestrians. According to the American Automobile Association, distracted driving is the cause behind as many as 50% of road accidents. If you find yourself walking along the roadways or if you enjoy a scenic jog alone any of Arizona's many stunning streets, consider these tips:
Always choose to travel on sidewalks and areas specified for pedestrian traffic.

If you must cross a road, do so at a designated crosswalk.

Be alert and pay attention to the road and to traffic. Distracted pedestrians can also cause accidents, so watch your surroundings to defined yourself from anything that doesn't seem safe. 

Do not walk near traffic if you are inebriated and do not behave in an unpredictable way.

Always walk on the shoulder of a road if there is no sidewalk present.

If you must walk on the road, do so facing traffic so you can see oncoming cars and make adjustments as necessary.

Do not think that a driver sees you on the road. Always assume they do not and respond by moving yourself along defensively.

If you must walk in bad weather conditions or at night, having reflective clothing or accessories will be helpful to make you more visible to other drivers.
Drivers can also do their part by engaging in the following safe practices:
Always be alert when driving, don't be inebriated, distracted, or tired.

Always be aware of pedestrians that may be present at crosswalks or in residential neighborhoods.

When there is a busy intersection with minimal crossing areas, be aware of others on the road.

Drive at the speed limit.

Be particularly vigilant when visibility is low.
Do You Need Help with an Arizona Personal Injury Claim?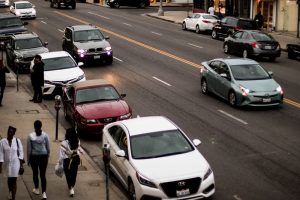 Pedestrians deserve to be safe when they are walking near roadways. Both drivers and pedestrians play a role in safety. When a negligent party has hit you and you were injured, do not hesitate to set up a free consultation with the Phoenix accident injury attorneys at ELG. It won't take much time to discuss your Arizona personal injury case and our attorneys are well respected in the greater Phoenix area for providing exceptional legal representation to our clients. During these unprecedented times, ELG is also offering remote intake so we can accommodate all victims of Phoenix personal injury incidents. Call ELG at (623) 877-3600 today.