How Can You Tell If a Driver is Distracted?
Distracted driving is both a dangerous activity and a negligent one, not to mention it is illegal. According to the Centers for Disease Control and Prevention (CDC), anything that diverts your attention from driving is distracted driving and increases the chances of an automobile accident significantly. There are approximately 9 people who will lose their lives every day as a result of distracted driving and over 1,000 people will sustain injuries. The National Highway Traffic Safety Administration (NHTSA) reported that in 2018 there were 2,841 lives lost from distracted driving.
There are many ways that drivers can be distracted including using their phones to text or email, making calls, managing rowdy children in the car, putting on makeup while driving, and eating or drinking. If you have been hit by a distracted driver and you or a loved one sustained injuries, it is important you connect with an Arizona serious injury attorney to explore your options to obtain the compensation you need and deserve.
What Are The Types Of Distracted Driving?
The CDC also defines three types of distracted driving and they include:
Visual distractions where a driver's eyes are taken away from the road and their surroundings. Looking at a phone, looking at directions, looking at other people in your car will take your eyes off of the road.

Manual distractions are those where the driver removes their hands from the wheel. Grabbing an item, handing an item to another car occupant, searching through a purse, or even holding your phone while typing an email are examples of manual distractions.

Cognitive distractions are those where your mind is not alert to driving and loses focus on this activity. When your mind is occupied by thinking of other things and its attention is centered on other thoughts, you are distracted.
As a driver, you must be alert to your surroundings including an awareness of other drivers on the road and their behavior. No one can prevent all accidents from happening to them, but they can reduce their risk of being hit. Erratic driving or if you see someone engaging in distracted driving, it is best to stay far away. Some signs that a driver is distracted include:
Swerving lanes and unable to drive straight

Driving slowly or speeding, periodically speeding and slowing 

Braking erratically

Not reacting to traffic signals and lingering at intersections

Eating and drinking while driving
Where Can You Find An Arizona Serious Injury Law Firm?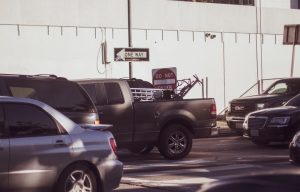 The Arizona automobile accident injury attorneys at ELG only handle personal injury cases and we have a proven track record of success providing the highest quality representation to victims in the state. We fight so that you obtain the most compensation possible after your accident experience. There are no out-of-pocket costs, you will not be charged anything unless we win your case. We are dedicated to supporting our clients and providing the absolute best legal services.
Contact the bilingual Spanish-speaking Phoenix personal injury attorneys at ELG today at (623) 877-3600 to schedule your free consultation.