How Long Do You Have to Report Your Accident to Your Insurance Provider?
Getting into a car accident is never what you expect or want to happen when you venture out on the road to commute to work, run errands, or pick up the kids from school. Accidents can be reduced with safe driving practices but your risk for getting involved in an Arizona car accident can not be entirely eliminated. If you are the unfortunate luck of being hit by another driver or if you hit someone else and you sustained injuries there are steps that should be taken in the aftermath of your accident. 
First, you should contact your medical provider to schedule an appointment so you can be examined and have your injuries properly diagnosed. This is important because getting started on the treatment plan necessary to recover is vital to your wellbeing. If your injuries are very serious, getting immediate attention at the emergency room may be called for. Next, you should report your car accident to your insurer. Most insurance companies require that you report your accidents, so informing them soon after the incident occurs is adviseable. No matter who is at -fault for the accident, telling your insurance company about the incident is important.
How Many Days Do You Have To Report Your Arizona Car Accident?
Today, the majority of insurance companies use modern technology to provide their customers with resources for easy reporting. Many offer apps, 24-hour claim hotlines, and online access that customers can utilize. If you are unsure about how long you have to talk with your insurance company, looking over your policy will help you find the answer. Each policy is different and so are the windows of time allotted for policyholders to make their claims. It is also not a bad idea to brush up on this information proactively even before you have an accident so you know exactly what you are dealing with should you have one in the future. You can call and speak with your insurance agent to easily find out how long you have for reporting an accident.
If you were the victim of an Arizona car accident, then the other action you should take is to call an Arizona automobile accident attorney to discuss your case. Every state has a different statute of limitations for filing personal injury claims. This is the amount of time you have to pursue compensation. In Arizona, there is a two-year statute of limitations to file your claim before you lose your opportunity to obtain a settlement.
Find An Arizona Car Accident Attorney Today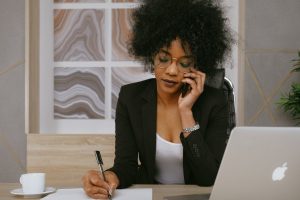 There is a lot of work that goes into building a successful case. The Arizona serious injury attorneys at ELG only work on personal injury cases. We know exactly what is needed to help you win your case. It takes time to gather all the evidence and documentation necessary including obtaining the police report, hiring a professional to investigate eyewitness accounts, work with the accident scene photos, compile medical bills, and doctor reports, to name just a few of the things our attorneys will do for you. 
In order to get everything accomplished during the state's statute of limitations, it is critical that you contact the Phoenix car accident injury attorneys at ELG immediately after your accident experience. You can schedule your free consultation by calling (623) 877-3600 today.