How to Drive Safely During Arizona Storms
Defined as a substantial change in weather patterns, a monsoon in Arizona is typically characterized by extreme heat, lightning, thunder, heavy rain, flash flooding, intense winds, dust storms, and even hail.
Though monsoons tend to be most frequent from mid-July to August, the season officially lasts through the end of September. When it comes to monsoons, staying safe on the road is paramount for Arizonans.
If you've been involved in a serious car accident in Arizona, contact our Phoenix auto accident attorneys at ELG. Our team of Arizona auto accident lawyers is here to help with a free, no-hassle consultation today.
Preparing for Severe Weather in Arizona
First, be prepared for emergencies and sudden severe weather. Take precautions before the weather gets bad.
For starters, you should ensure that your car's windshield wipers are in good condition. If they're worn or aren't working correctly, replace them. It's also a good idea to keep a supply kit in your car in case of emergencies. Keep the kit in an accessible location and stock it with important items like bottled water, first-aid supplies, snacks, and a flashlight with extra batteries.
Avoid Driving During Arizona Storms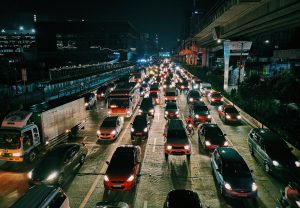 Check local weather reports to stay ahead of storm forecasts, especially if you're going out on a drive. If inclement weather is expected, or if there's a storm warning, stay where you are and postpone your outing until it's safe.
Furthermore, you should avoid driving in heavy rainfall and in flooded areas. Nearly half of the total flood deaths in Arizona are driving-related.
Don't be fooled by your perceived depth of the water–even if a puddle looks shallow, it can be dangerous. In fact, a car as large as an SUV or van can float in less than two feet of water.
Finally, you should avoid braking sharply to prevent hydroplaning, or sliding and drifting in the water. If you have to brake in flood conditions, ease up on the gas steadily and brake slowly.
What Do You Do If You're Caught in an Arizona Monsoon?
If you do get caught in a monsoon, exit the roadway and get to safety. The Department of Transportation's monsoon guidelines in Arizona state that you should travel to a secure off-road area as soon as you can.
If you're driving in low or no visibility, pull your vehicle off the road, as far to the right as possible. Then, turn off your lights and keep off the brakes so your brake lights won't show, reducing the risk that other drivers follow your vehicle off the highway.
Auto Accident Lawyer in Phoenix
Monsoon season can be a scary time for Arizonans. But when you drive safely and stay alert to your surroundings, your chances of a serious accident in these tough weather conditions are decreased. If you are involved in a wreck, however, ensure you contact your car accident attorney as soon as possible.
Your lawyer can help you stay organized and answer questions about your case. This smooth process allows you to recover from your accident stress-free.
If you've been injured in a wreck, contact our Phoenix accident lawyers at ELG today. Call us at (623) 877-3600 for a no-obligation, free consultation, and legal aid.