How to File an Arizona Motorcycle Accident Lawsuit
If you were involved in a motorcycle accident and have sustained injuries or your vehicle was badly damaged, it is important to file an insurance claim. The Arizona Department of Transportation reported a total off 2,738 motorcycle accidents in 2018. Furthermore, there were a total of 4,985 fatal motorcycle accidents in 2018 alone. These accidents can be incredibly devastating but it is important to file a claim so you can receive the compensation you deserve. Filing a claim can be time-consuming because of all the legal steps involved. There are also many legal rules and regulations to follow so it can be confusing to understand. 
Motorcycle Accident Settlement In Arizona
A settlement is an agreement between both parties in a dispute that is typically negotiated by an attorney. After an agreement has been reached, nothing else can occur. This means that the case is closed. If these motorcycle accident cases go to court, it gets more time-consuming, complicated, and more expensive. It is better if you can come to a mutual agreement before having to go to court. A motorcycle accident attorney will be able to help you file a legal claim. 
It is important to understand the timeframe you have to file a motorcycle accident claim. In Arizona, you have a two-year statute of limitations period to file your legal claim. This timeline starts from the date of your injury. Two years may seem like a long time, but this can go quickly when you are trying to recover from your injuries. A qualified attorney will be able to help you understand how to file a legal claim and guide you through the entire process. 
The process of filing a legal claim will start with a demand letter. This letter is written to an insurance company claiming all of the damages from the accident. You must include the physical injuries sustained along with any property damage in this letter. You want to describe everything exactly how you remember it. Explain what type of injuries you sustained as well as the type of property damage the occurred. It is better to give more information than not enough. There is no such thing as too much information here because a judge will make a decision based on this information. 
Finding An Arizona Motorcycle Accident Attorney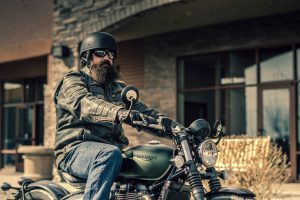 Make sure you consult with a motorcycle accident attorney if you have sustained injuries in a motorcycle accident in Phoenix. These situations are very stressful so it is important to have a trustworthy legal team on your side. You don't have to go through this process alone. The Phoenix attorneys at ELG will investigate your accident and determine the best legal claim to file on your behalf. Our attorneys will offer you their best legal advice. It is important to use that you recover the maximum amount of compensation. Contact us to determine how our motorcycle accident attorneys can help you with your legal matter. Call us today at either Phoenix or Mesa Arizona law offices at (623) 877-3600.