How To Pay For Medical Bills After An Accident In Arizona
After an accident where you sustained injuries, you will oftentimes need medical treatment and therapy to recover. That treatment comes at a price and even if you are pursuing a personal injury claim, you won't see your compensation until the claim is concluded. So while your Phoenix serious injury lawyer is fighting on your behalf to obtain a fair settlement, you are still saddled with the bills. This can be a very overwhelming process, but some options can help.
Health Insurance
Those who carry private health insurance either on their own or through an employer may be able to have their health care provider submit those bills to the insurance company for payment. While this will reduce the amount of out-of-pocket expenses you will see from your accident injuries, it won't eliminate them. You will still be responsible for co-pays as well as meeting your deductible if you haven't already.
When your insurance company is taking on the expense of the accident they typically will have what is known as subrogation rights. Subrogation rights allow the insurance company to be claim reimbursement against the settlement you obtain after your claim is finished. So if you obtain money in a settlement your insurance provider may require that you repay all or some of the costs that were paid for you while you were in the claims process.
Public Health Plans
Medicaid and Medicare could potentially help you with the cost of your bills. Similar to the private insurance policies, public health plans may also require subrogation against the settlement you obtain.
Med-Pay
Insured drivers often have medical payment coverage, also known as med pay. This coverage is offered through your automobile insurance policy and it is optional. Coverage can be applied up to your policy limit and it is available for those medical bills regardless of fault. Subrogation tends to also apply here as well.
Lien Agreements
There may be the ability for some negotiations with your medical provider. In some situations, medical providers will work with patients and provide them with the treatment they need upfront. Then, after your settlement has been received, take payment from those monies. This allows those with no insurance to get the treatment and therapy they need to recover immediately. Make sure that you understand the details in these lien agreements before you sign on because there could be some negative repercussions.
Responsible Party's Insurance
If you were injured in an accident that was not your fault and the other party was deemed to be at fault for the accident, you can file a claim with their insurance policy. Because Arizona is an "at-fault" state, it is the responsibility of the party who caused the accident to pay for the resulting damages. 
When you bear some responsibility for an accident, you can still recover compensation, just at a reduced rate. When both parties have some fault in an accident, comparative negligence goes into effect. What this means is that you will be assessed a percentage of fault, and as long as it is less than 50 percent of the compensation you get will be reduced by the percent you were deemed liable.
Do You Need Legal Representation After An Accident In Arizona?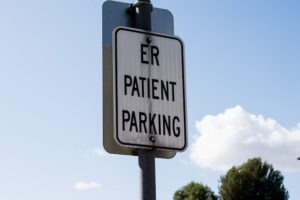 After a car accident, you need experienced legal representation. The knowledgeable Phoenix car accident attorneys at ELG have years of experience helping victims of accidents who sustained injuries. We will fight on your behalf so that you see a fair settlement to help you pay for the damages you suffered as a result of your accident. Call the attorneys at ELG today and set up a free consultation. We are here to discuss your accident experience at either our Phoenix or Mesa personal injury law offices at 623-562-3838.