How to Pick a Bicycle Accident Attorney in Phoenix
Americans utilize many forms of transportation and riding bicycle accounts for 1% of all preferred modes of transportation. According to the Centers for Disease Control and Prevention, there were over 1,000 bicyclist deaths in 2019 across the country. That year, there were close to 467,000 bicycle-related injuries. Riding a bicycle is a fun form of healthy exercise but it does leave the rider vulnerable to severe injuries, specifically when the bicyclist is driving on the roadways.
In Arizona, the weather is welcoming for avid and leisure bicyclists alike. Many bike-sharing programs make it simple for residents and tourists to cycle in the areas of Phoenix, Scottsdale, and Mesa, which are particularly nice during the springtime. It is not hard enjoying the beautiful backdrop of the state and neglect to consider the very dangerous risks that are on the road.
Reckless and distracted drivers can cause major harm to other motorists, but when they collide with bicyclists, the results are often catastrophic if not deadly. The Arizona Department of Transportation reported that in 2016 there were over 1,400 accidents involving bikes. The difficult reality was that more than 90% ended in injuries, and 2% resulted in deaths. The severity associated with bicycle accidents requires trained and aggressive representation by the Phoenix bicycle accident attorneys at ELG Law.
Finding a Bicycle Attorney in Arizona
As with any accident, when you are injured you need to seek medical attention to ensure you can have a fast and full recovery. Then you need to seek the qualified professional representation of an experienced Arizona bicycle accident attorney. How do you find qualified representation? Here are a couple of points to look for when you are searching for the right legal assistance.
Find an attorney that knows Arizona law and city ordinances where you had your crash so that you are ensured to have representation that understands each city's rules and guidelines. There are rules relating to helmet use, where a rider can operate their bicycle safely, as well as what technically counts as a bicycle.
Any attorney that you are hiring to represent your best interests should be trustworthy and highly reputable. Those with great reviews and a solid reputation are going to be a good choice. After all, you need someone to look out for you, and if you can't trust your lawyer to do that, it will affect your case and ultimately your livelihood after an accident where you sustained injuries.
When you meet with a lawyer who has a great reputation and high satisfaction rating, you will be also looking for one that will meet with you with no strings attached, a lawyer who genuinely cares about your perspective and your wellbeing. You will get a feel for this during the first consultation. When the professional is listening to you, answering your questions, and showing they have a genuine interest in you, this is a good sign.
Bicycle Safety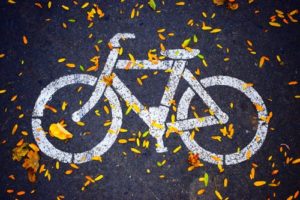 Accidents while on a bike happen frequently and due to their severe nature, it is immensely important to ensure that you are aware of your surroundings so you stay safe while you are riding. Always:
Wear a helmet

Obey traffic laws, signs, and signals

Use the appropriate hand signals to alert others on the road with you about what you are going to do

Ride along with traffic

At night make sure you are visible by wearing reflective gear

Be aware of dangers in your environment, such as potholes, debris in the streets, uneven roads, sharp turns, etc.

Don't allow yourself to drive distracted – stay away from texting, talking on the phone, listening to music, scrolling through emails, taking pictures, or eating while riding

Familiarize yourself with city ordinances and bike laws, and be courteous to other bicyclists on designated bike paths
Bicycle Accident Attorneys in Phoenix
A bicycle accident comes with serious repercussions and the need for a serious attorney is crucial to the success of your case and your ability to obtain your maximum compensation for your losses. Call the bicycle attorneys at ELG Law at either our Phoenix or Mesa, Arizona law offices at 623-562-3838 to discuss your experience today during a free consultation.