How To Report An Accident To Your Insurance Company
If you have never been in an accident, you are very lucky. Automobile accidents are very common in the United States and there are approximately 6 million accidents that take place each year in the country. Hopefully, you will never be in an accident, but if you are you need to understand how to correctly report that accident to your insurance provider. It can be easy to become overwhelmed after an accident which may cause you to make bad decisions so here are some tips to consider. If you familiarize yourself with the information below, it could help you make the best decisions for your situation.
Whose Insurance Do I Contact After A Car Accident?
After an accident, one can look to contact their insurance for assistance or that of the other parties' insurance. First-party insurance claims are those that are done with your own insurance company. Third-party insurance claims are those that get the other driver's insurance company involved.  
Arizona is an "at-fault" state. This means that the driver who causes the accident bears the responsibility of paying for the damages. If all parties involved bear some responsibility for the accident, those that are deemed to have less than 50% responsibility can pursue a reduced settlement amount. This is due to the comparative negligence system the state uses.
How To Report An Accident To The Insurance Company
You can reach any insurance company and speak with an agent by calling or via an online claims center. When you are contacting your own insurance company, you have the information on-hand. However, if you plan on contacting the other party's insurance company you must obtain that information from the other driver. You need to ask the other driver for their personal contact information as well as that of their insurance provider. 
After a crash, you must obtain the following information:
The legal name of the driver.

The policy dates.

The time and location of the incident.

Insurance policy numbers.

The driver's license number.

The driver's license plate number.

Take note of how the accident occurred, take plenty of pictures of the environment, the vehicles involved, injuries sustained, and damages.

Police report if an officer comes to the scene.
Timing is important in the claims process. Procrastinating and waiting too long to file a claim may result in it being denied. So when you are involved in an accident, it is important to get the process started immediately. If you need help doing so, an experienced Phoenix car accident attorney will help you through every step of the claims process. When an insurance company is contacted they will send a representative to examine your vehicle and make an assessment of the damages. Your lawyer can help put the documentation together regarding your injuries and combined, you will move forward with an amount of compensation that you are pursuing from the insurance company.
Experienced Phoenix Automobile Accident Attorneys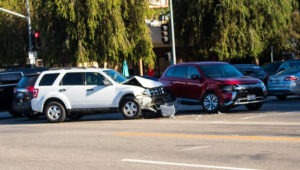 When speaking with an insurance company there are a couple of points to understand. Your knowledgeable Phoenix serious injury attorney will be able to advise you on these points, but to keep you informed, take a look at the following:
Give yourself time to recount the events and details of the accident. If you decide to provide a written statement, it is advisable to speak with your attorney before putting anything in writing or making any confirmation.

See a medical professional shortly after your accident to have official documentation and diagnosis of injuries sustained. A medical professional will also advise you of the treatment plan you need to recover. Don't discuss injuries until after you have been seen by a doctor. If asked, you can simply say you are hurt and going to see a doctor.

You don't need to provide excessive information to insurance companies, keep your answers short.

Don't exaggerate or lie, always tell the truth. Lying hurts credibility and claims.

Don't agree to a fast settlement, allow your lawyer to examine the settlement to ensure it is fair to you before accepting it.
Those who obtain legal representation have a greater chance of having a successful personal injury claim and will most often obtain the highest amount of compensation. You deserve to obtain a fair settlement, call the attorneys at ELG today and set up a free consultation. We are here to discuss your accident experience at either our Phoenix or Mesa personal injury law offices at (623) 562-3838.