How to Stay Safe on Your ATV
All-terrain vehicles (ATV) are fun to drive and make for an enjoyable and even thrilling ride. There are a plethora of ATV trails, motocross parks, and beautiful natural areas throughout the state of Arizona making ATV riding not only appealing but practical for residents and visitors alike. In some cases, ATVs aren't used for just fun, they may be used for functional purposes like on a farm to manage livestock, for example. 
Like motorcycles, there isn't much protection in an ATV. If the ATV flips or crashes, those riding it are vulnerable to serious injuries or death. When driving an ATV it is important to understand the risks associated with the activity as well as being cognizant of the appropriate safety precautions.
How to Safely Operate Your ATV
Arizona ATV accidents happen for a variety of reasons. While ATV accidents can affect any age rider, most often it is young children under the age of 16 involved in these accidents. It is common that children who are not strong enough or skilled enough to drive adult ATVs do so anyway. This is very dangerous. Simply checking the ATV's label to see what ages are appropriate for the model you are looking at is the quickest way to determine if the ATV is an appropriate size for your child to ride. Keeping children on ATVs that are made for their age and not allowing them to drive models that are for older adults is a major part of keeping them safe.
The majority of ATVs are not made to support more than one person, yet many riders will allow another passenger to ride on the back. If you have a second person on the back of your ATV and your ATV wasn't designed to accommodate two people this is a highly unsafe situation. The extra body will throw off the balance of the vehicle and make it very difficult to steer and to operate. This means that both the driver and the passenger are at increased risk of major harm, if not fatal injuries if there is an accident.
Despite these vehicles claiming to be "all-terrain," the reality is that they do not operate well on paved roads. It is best to keep ATV's off-road because they do not have the stability necessary to drive on a paved roadway. Also, if you are able to avoid sharp turns, that can help reduce the risk for rollover accidents. Other tips to safely operate your ATV include:
Always read and become familiar with your ATV's manual. You will have a complete understanding of how to operate it correctly, as well as what it can do and what it cannot do.

Taking an ATV training course can help you be a more confident driver.

Stay alert to any recalls or news regarding manufacturer errors.

Never drive drunk or if you have used drugs.

Don't drive at excessive speeds and adjust your speed based on your environmental conditions.

Wear a helmet and safety belt while driving if one exists.
Have You Been Hurt in an Arizona ATV Accident?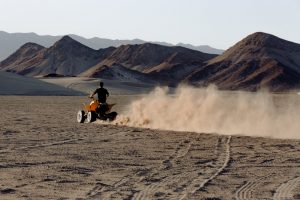 If you were injured in an Arizona ATV accident by the negligence or recklessness of another party, call the Arizona serious injury attorneys at ELG. Our team of Phoenix ATV accident attorneys will help you build a successful personal injury claim. ELG's Arizona personal injury lawyers will fight the insurance companies aggressively on your behalf, call us today at (623) 877-3600 to schedule your free consultation.