Important Road Rules to Remember
Respecting the rules of the road and following the law when you are driving keeps you and others safe. Not only does driving responsibly increase safety but it also reduces your risk of being pulled over by a police officer or having your picture caught on a photo radar camera. This helps you avoid having to deal with points on your license, the loss of your license, and fines. Speeding, not stopping completely at a stop sign, running red lights, driving while drowsy, and driving under the influence are all well-known behaviors that are associated with accidents.
Around the country, there are more than 6 million accidents that happen every year and the National Highway Traffic Safety Administration cites that the overwhelming majority are from misjudgments and errors in driver behavior. In 2019, there were 129,750 Arizona traffic accidents. When a traffic accident happens, victims can suffer a wide range of damages. After an Arizona automobile accident, call the Arizona personal injury attorneys at ELG for help with your Arizona personal injury claim.
Rules of the Road to Remember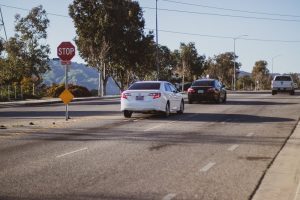 New drivers and even seasoned drivers can easily make errors with how they respond to certain situations on the road. Some of the actions it is important for drivers to remember include: 
If there is a law enforcement or emergency vehicle on the side of the road it is important to slow your speed and if you can move over into the next lane and provide the room you should. Staying alert and providing space can help keep all people protected from harm.

If law enforcement is out redirecting traffic slow down and follow the direction of the authorities. 

If the light is blinking or if a traffic signal is not working at all, make sure to be cautious as you approach the intersection because other cars may not know how to respond or may not notice the issue. Come to a stop and act the same way you would as if the signal was a stop sign.

When you approach a crosswalk, the pedestrian has the right-of-way. So make sure to again, slow down and allow for pedestrians in designated crosswalks to travel safely on the road.

When you come to a stoplight that is red, you can make a stop and check for other cars and then proceed to turn when you are turning right.

Always slow down in school zones. School zones have blinking lights and signs that show drivers where these zones exist.
Speak with an Arizona Personal Injury Attorney After Your Car Accident
When a driver doesn't obey the rules of the road and they hit you, they are liable to pay for your damages. If their behavior was specifically egregious like driving while highly intoxicated, you may be entitled to having punitive damages added on top of the money you are paid from your settlement for your losses. Call the Phoenix personal injury attorneys at ELG to schedule your free consultation at (623) 877-3600. ELG also offers remote intake.