Motorcycle Safety
Everyone knows that motorcycles are inherently more dangerous than cars, but millions of individuals find them attractive to ride for many reasons. Some of those reasons include great gas mileage, easy parking, they are fun to ride, and they can make your commute quicker. These are great benefits, but they do come with some great risks as well. According to the Insurance Institute for Highway Safety, in 2016 motorcyclists were 28 times more likely to die in a crash than individuals who were in a car. It doesn't matter if you are new to operating motorcycles or if you are an experienced motorcyclist, it is always important to go over motorcycle safety tips to help keep you out of harm's way on the roadways.
Tips to Stay Safe on a Motorcycle
Wear a helmet- According to the CDC, helmets reduce the risk of head injuries by 69 percent and reduce the risk of death by 37 percent. Helmets not only protect your head, but they also help to protect your eyes and face from road debris, bugs, and rain. No matter how long your trip is it's important to always wear a motorcycle helmet.
Use the controls- It is very important that motorcyclists know exactly how to operate their motorcycle before they ride on roadways with busy traffic. It might take some time to become familiar with certain controls on the bike like gear shifters, pedals, finding the horn, and trying out all of the light signals to ensure they work properly, but taking a moment to adjust everything and make sure they work can save lives and keep the roadways safer.
Avoid road hazards- Since motorcycles have less contact with the pavement, it is important to avoid running over debris and slow down in poor weather conditions. Rain can be very dangerous causing a motorcycle to skid across the road. Motorcyclists should approach uneven ground delicately to prevent their bikes from crashing or skidding.
Be a defensive rider- When you are driving on the main roadways, keep your motorcycle in spaces that can easily be spotted by other motor vehicles. Stay away from blind spots and large commercial trucks. Also, utilize your horn when necessary to alert other drivers.
Wear Protective gear- Protective gear such as leather or denim pants and jackets will help guard your arms and legs from bad road rash. You can also wear gloves to help keep a better grip on your motorcycle and stay in control when you are riding. When you are driving in the dark, wear gear with reflectors on them so cars can see exactly where you are.
Finding An Arizona Motorcycle Accident Attorney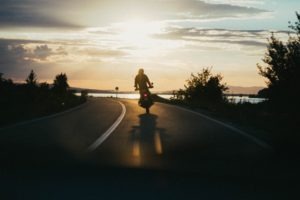 Motorcycle accidents can be incredibly dangerous. If you or someone you know has suffered injuries due to a motorcycle accident, consult with a motorcycle accident attorney to explore your options. Protect your legal rights and seek help from a knowledgeable motorcycle accident attorney at ELG. Our experienced team of Phoenix attorneys will handle your entire legal claim, so you can focus on your personal recovery. Our attorneys want to determine the highest value of your claim. Find out how our motorcycle accident attorneys at ELG can assist you. Call us today at either Phoenix or Mesa Arizona law offices at (623) 877-3600.