Phoenix's Problem with Rising Fatal Pedestrian Accidents
Across the country, there are more and more pedestrians being hit by cars, and many times suffering severe injuries or dying from their injuries. According to studies, the number of reported accidents involving pedestrians is on the rise. Phoenix has the highest number of Arizona pedestrian accidents in the state. As far as the increased numbers of pedestrian accidents that cause death for pedestrians, the Governors Highway Safety Association has a couple of possible reasons for the rise:
The popularity of driving SUVs increases the number of larger vehicles traveling on the roads. When a larger vehicle collides with a pedestrian the aftermath will most often be catastrophic. Between 2009 to 2018, pedestrian deaths from SUVs were up by 81%.

During the summertime when the weather is warmer and the days are longer, more people choose to walk or ride bicycles to get around and for exercise. With more people out and about and potentially tending to stay out through the night, it makes it more difficult to see pedestrians when it's dark. Statistically, more people outside will also come with more accidents. From 2009-2018 fatal pedestrian accidents at night were up by 70%.

Distractions from technology in the car and handheld devices reduce a driver's ability to notice a pedestrian as easily as they would if they were paying full attention to the road.

Drug and alcohol use make a driver dangerous when behind the wheel. One theory is the trend of legalizing recreational marijuana may be causing more drivers to be inebriated while driving than were present before marijuana was legal.
Fatal Pedestrian Accidents in Phoenix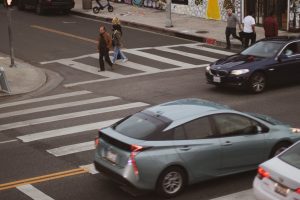 The Arizona Department of Transportation indicates that one of the deadliest areas in the state is a half-mile portion of 27th Avenue. Between 2010 and 2017 this portion of the road was responsible for six deaths and four individuals sustaining major injuries. Phoenix pedestrian accidents where a person is walking and is hit by a car are happening so often, that they are a leading cause of death for the entire state. While Phoenix has taken steps to increase the number of crosswalks in the city, the placement of these crossings has not been in the most critical locations where the highest fatality rates exist. The state does indicate that it will put pedestrian hybrid beacons in areas that have increased accidents.
According to officials with the state, the long time it has been taking to update the infrastructure is due to insufficient funding. While residents in the state wait for improved road safety, the rate of pedestrian fatalities in Phoenix is increasing at a faster pace than the population of the state.
Find an Arizona Car Accident Attorney Today
Families of victims of tragic fatal Phoenix pedestrian accidents will understandably have to endure an emotional wound that could take a very long time to heal. While financial compensation won't make that healing process go any faster, it can help provide them with help paying for final expenses and to compensate then for the damages that they sustained after their loss. To get the most out of a Phoenix personal injury claim, contact the Pheonix serious injury attorneys at ELG.
The Phoenix pedestrian accident attorneys at ELG today can be reached at (623) 877-3600 to schedule your free consultation.