Proving Fault in Arizona Slip and Fall Accidents
Slip and fall accidents can happen in the blink of an eye. No one ever plans for a slip and fall accident to occur. It does not matter if you are at work, at the grocery store, or at home, these accidents can happen anywhere. These accidents occur quite frequently. The National Safety Council reported that slip and fall accidents account for about one-third of all injuries in the United States. Furthermore, each year over 800,000 people are hospitalized due to slip and fall accidents. These accidents can be very devastating and lead to serious injuries with long recoveries. If you sustain serious injuries from your slip and fall accident, you could also be facing expensive medical bills. These injuries typically range from minor cuts to serious life-threatening injuries. It can be difficult to prove who that at-fault party is, but a personal injury attorney can help you fight for the compensation you are entitled to.
Proving Your Legal Status
The first step to prove liability in an Arizona slip and fall accident is to prove the injured victim was injured on someone else's property and they were legally allowed to be there. This is very important because you have to be legally allowed on the property to fight for compensation. You are legally allowed on someone's property if they invite you, if you are conducting business, or if you are participating in a social gathering. If you enter someone's property, under those circumstances, you will typically be legally protected. You must prove that your injuries were a result of a dangerous condition on the property that was also not obvious to everyone. If you can prove this, then you will be able to receive compensation for the injuries you sustained. A personal injury attorney can help you prove this and file a legal claim. They will investigate your accident to gather all of the facts before filing a claim. 
What To Do If You Have Been Injured In A Slip And Fall Accident
If you have sustained injuries in a slip and fall accident, you must seek medical attention immediately. If you wait to receive a medical exam, your injuries could get worse over time. This could lead to worse injuries and more expensive medical bills. After you have seen a medical professional, reach out to a personal injury attorney for legal advice on how to prove who the at-fault party was.
Always document all of your medical injuries after a slip and fall accident. This will be an important piece of evidence to prove your injuries. Things to keep are records of every document the medical staff gives you, test results, lab results, and any other medical documents relating to your slip and fall accident. These documents are crucial pieces of evidence for filing a claim.
Finding An Arizona Personal Injury Attorney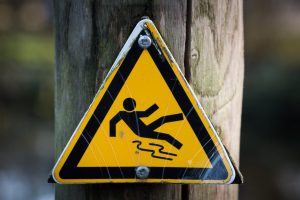 Personal injury accidents can be very stressful. If you have sustained injuries in a slip and fall accident, don't hesitate to reach out to a personal injury attorney. The sooner you reach out, the quicker a personal injury attorney can help you. The personal injury attorneys at ELG want to assist you with your slip and fall accident. Our attorneys will evaluate your accident and answer all of your questions along the way. We want to help you recover the compensation you deserve. Set up a consultation today and contact our Phoenix attorneys at ELG. Call us at either our  Phoenix or Mesa Arizona law offices at (623) 877-3600.