Requirements for an Arizona Motorcycle License
Motorcycles are very common in the state of Arizona and it is easy to understand all the reasons why.  We have a beautiful backdrop on most any road, we also have wide open roads, and our warmer, dry climate makes for suitable riding conditions.  The problem with motorcycles is their lack of surrounding protection for the driver, and these vehicles can go at a fast pace which, if you are not careful may result in losing control of your bike.
In 2017, there were 284 motorcycle crashes and 18 of them were fatal in the state of Arizona.  The laws governing motorcyclists in Arizona are put forth to improve operator safety.  
Arizona Motorcycle Endorsement Requirements
So you are ready to get a valid motorcycle license in the state of Arizona.  There are some things you will need to move forward and these include:
16 years of age and older

Those under the age of 18 must have had possession of a learner's permit for at least 6 months

Successful completion of a motorcycle driver safety program to be approved by the Motor Vehicle Division OR 

Obtain a certified form signed off by a parent or guardian confirming the application has a minimum of

 

30 hours of driving practice
The driver's license for a motorcycle is called a class M endorsement and similar to a license to operate a motor vehicle like a car, there is also a written test that must be passed, as well as a medical and vision screening.
Helmet Laws in Arizona
ARS § 28-964 requires that all riders who are under the age of 18 wear a helmet.  The options are either a three-quarter helmet or a full-face helmet and no matter which one is your preference, it must be meet U.S. Department of Transportation as well as Arizona state standards.  A viable helmet may also have a label from the Snell Memorial Foundation, which is a not-for-profit organization founded in 1957, that focuses on research, education, testing, and development of helmet safety standards.
Miscellaneous Safety Equipment
Visual protection is also required through Arizona law.  Equipment necessary to meet this requirement include glasses, goggles, a face shield, or a windshield installed on the motorcycle itself.  The motorcycle must have a rear-view mirror, a seat, headlamps, as well as footrests. Any passenger that rides on a motorcycle must also have access to a seat and footrest.  Passengers have the same requirements as drivers do regarding safety gear which means, if they are under 18, they must also have an approved helmet while on the bike.
It is important to note that those drivers who only have a permit, are not legally allowed to have a passenger on their motorcycle.
Rules of the Road
The lane-sharing law in Arizona, ARS § 28-903, has its own rules:
Motorcyclists are allowed to use the full lane but they are not allowed to pass another vehicle in the same land of traffic

It is unlawful for motorcyclists to drive between traffic lanes or between adjacent rows of vehicles

No greater than 2 motorcyclists riding side-by-side are permitted in a single lane
Noise Regulations
Each model of a motorcycle has its requirements for legal noise level allowed.  The original manufacturer's muffler must be installed and if not, noise reduction parts must be used when the original is not in place on the bike.  No use of cutoff or bypass devices is permitted.
Motorcycle Accident Attorneys in Arizona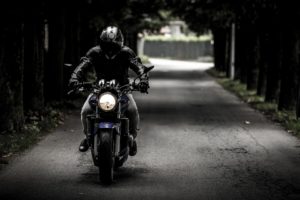 Accidents involving motorcycles are often severe if not deadly. The high rate of speed coupled with the lack of protection combines to make for a risky combination.  Traumatic brain injury, paralysis, fractures, internal bleeding, and death are not uncommon outcomes after an accident involving a motorcycle.
When you or a loved one has been injured in a motorcycle by another reckless driver, you need to seek medical attention immediately.  Next, the help of an Arizona motorcycle accident attorney is crucial to helping you see your full legal justice.  
The Phoenix motorcycle accident attorneys at ELG can answer all your questions and guide you through the process of your personal injury claim.  Call our team of experienced and compassionate Arizona personal injury attorneys today at 623-562-3838 to schedule a free consultation at a time convenient for your schedule.