Should You Work with An Arizona Attorney if You Have Already Been Offered a Settlement?
Sometimes an insurance company is quick to offer a settlement after an accident. While this may seem like a good thing for victims of accidents who are getting a settlement quickly, consulting with an attorney before accepting any settlement offer is still a very wise idea. There are no laws on the books in the state of Arizona that make it mandatory for any victim of an Arizona car accident to have an Arizona car accident attorney. Any victim of an Arizona motor vehicle accident can pursue an Arizona personal injury claim with or without professional legal assistance.
Even though victims of car accidents aren't required to have an attorney, it nevertheless is still a good idea to have legal counsel on your side. When you work with an attorney you can better ensure that the settlement you get is the highest amount possible, is fair based on your damages, and you will know your full legal rights have been protected. The experienced Arizona personal injury attorneys at ELG have many years of representing the best interests of victims of accidents where serious injuries and death result.
Why Accepting a Settlement Without Legal Representation Isn't a Good Idea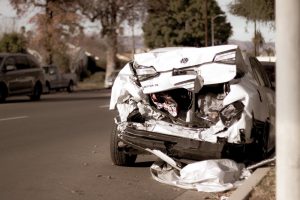 A study from the Insurance Research Council revealed that victims of injury accidents do much better obtaining the most compensation with legal representation than they do when they pursue a claim alone. According to the study, those victims that work with an experienced attorney were able to obtain settlement amounts 3.5 times higher than those that did not have an attorney. The insurance companies have their own highly paid attorneys protecting their interests and minimizing the amount of money they pay out which protects their bottom line. They aren't interested in being fair and they aren't looking out for your best interests. Their goal is to close any cases against them as quickly as possible and for as little money as possible.
If you don't know your rights and the laws in the state of Arizona, you may not have an understanding of what your case is worth. When you go into negotiations without an idea of what a fair value is, it is very easy to accept a settlement much lower than you need and deserve because you just want to move on with your life. However, if you have serious injuries that require extensive medical treatment and if you have to spend time away from work, for instance, you will need to obtain enough money in your settlement to pay for these expenses. 
Speak with an Arizona Personal Injury Attorney
While it may seem convenient to readily accept an eager insurance companies' settlement offer, it is important that you understand once you sign off on that settlement your case is closed. It is very unlikely that if you find out you need more money for your damages that you can go back and get those extra funds. This is why securing the most compensation that incorporates all current and future expenses are so important, and you can ensure that happens when you work with the Phoenix serious injury attorneys at ELG. Call the Phoenix personal injury attorneys at ELG today at (623) 877-3600 to schedule your free consultation.