Slip and Fall Accidents
Slip and fall accidents can happen in the blink of an eye. Whether you are at work, at the grocery store, or at home, no one ever expects to suddenly slip and fall. The National Safety Council reported that slip and fall accidents account for about one-third of all injuries in the United States. Additionally, there were a total of 28,027,606 non-fatal slip and fall injuries in 2017. These accidents can lead to serious injuries involving long recoveries and expensive medical bills. Injuries from slip and fall accidents can range from minor bruises to serious life-threatening injuries. 
Common Causes of Slip and Fall Accidents
The majority of the time a slip and fall accident occurs from the negligence of another individual or business. Every property owner has the responsibility of making sure they maintain a safe environment for all individuals. This means if the floor is wet, they need to put up a caution sign to alert individuals of the wet floor. Listed below are some of the most common causes of slip and fall accidents:
   

Wet floors without proper warning signs

   

Debris on the floor

   

Uneven surfaces

   

Potholes in parking lots

   

Unsafe working environment or construction zones

   

Loose floorboards, mats, or rugs

   

Poor lighting

   

No handrail on stairways

 
Individuals and businesses need to take care of their property. They must keep up with all maintenance issues and any damages that may occur. The best way for property owners to prevent accidents is to keep parking lots lit in the dark, mop up wet surfaces, and repair walkways immediately.
What To Do If You Have Been Injured 
If you have been injured by a slip and fall accident you must seek medical attention immediately. Don't wait to receive a medical exam because your injuries could get worse over time. Once you have seen a medical professional, reach out to a personal injury attorney for legal advice on how to file a claim for compensation.
You must document all of your medical injuries after a slip and fall accident. It doesn't matter what type of injury you sustain, you need evidence proving your injuries. Keep records of every document the medical staff gives you at all of your office visits. These documents will be crucial pieces of evidence when filing a claim. 
Finding An Arizona Personal Injury Attorney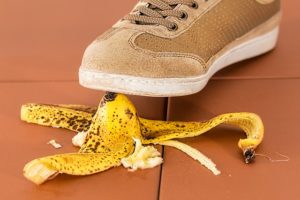 Personal injury accidents can cause a lot of confusion in someone's life. If you have sustained injuries in a slip and fall accident, don't hesitate to reach out to a personal injury attorney. Don't go through this overwhelming time alone. The personal injury attorneys at ELG want to assist you with your slip and fall accident. Our attorneys will answer all of your questions and help you better understand all of the legal steps. We want to help you recover the compensation you deserve. Set up a consultation today and contact our Phoenix attorneys at ELG today. Call us at either  Phoenix or Mesa Arizona law offices at (623) 877-3600