Steps to Take After a Hit-and-Run Wreck in Arizona
Also referred to as a hit-skip collision, a hit-and-run occurs when at least one of the parties involved in a crash flees the scene. Hit-and-run collisions involving fatalities are also up, according to the National Highway Traffic Safety Administration.
In fact, there were an estimated 737,100 hit-and-run crashes nationwide in 2015 alone, meaning that a hit-and-run crash happens somewhere in the country every 43 seconds.
Though you can't always avoid these accidents, knowing what to do after hit-and-run collisions can help you stay prepared when you're on the road. If you've sustained injuries in a hit-and-run accident in Arizona, contact the Phoenix accident attorneys at ELG. Our team of accident lawyers is here to help after your hit-and-run crash.
Alert the Authorities
Confirm the safety of all involved and call medical assistance if needed. Don't leave the scene of the accident and contact the police immediately. Leaving the scene of a car accident is against the law in most parts of the country, including Arizona. That's why it's vital to get a police report to settle your case.
When the police do arrive at the scene, avoid admitting fault or dismissing the other drivers' roles in the accident. Stick to the facts of the crash, and refrain from providing more detail than necessary.
Take Down Information at the Scene of the Crash
It's important to collect as much information as you can from the scene of the wreck. Take photographs of property damage, injuries, and any other relevant details, such as the road and your surroundings. You should take pictures from different angles and ranges to capture the extent of the auto accident. For example, include photos of the traffic lights and intersection, street signs, and highway signs. If you're injured, ask a passenger or friend to take photos of your injuries.
If other passengers were involved, get their information. Remain calm and cooperative as you exchange this information.
When you have all the information you need, contact your insurance company. Let your company know that you were involved in an accident and if applicable, sustained injuries.
Document All Medical Treatment After a Hit-and-Run Wreck
If you've sustained injuries, seek immediate medical treatment, and document your injuries. Even if your injuries don't seem serious, it's important to seek treatment, especially since it's common for injuries to appear later on. Delaying treatment may also weaken your personal injury case since delaying makes it harder to prove that your injuries were caused by the accident.
When you do seek treatment, maintain detailed medical records and receipts of all appointments, medications, bills, and provider information.
Report Your Hit-and-Run Claim
When you call your insurance company to report the crash, they will assign you an insurance adjuster, either within your state or within the state of the accident. Your adjuster will handle your claim and provide more information about the next steps for you.
Furthermore, Arizona has enacted new penalties for those found guilty of hit-and-run to confront the problem. These penalties institute license suspensions depending on the outcome of the crash. If the accident only involved vehicle damage, for example, hit-and-run drivers in Arizona lose their licenses for one year. If there was a fatality, the hit-and-run driver loses their license for 10 years.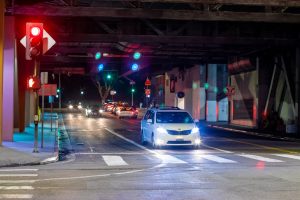 Personal Injury Attorney in Arizona
Victims of hit-and-run accidents often feel helpless or left with few options for legal recourse. Additionally, hit-and-run victims are more likely to suffer financial difficulties or emotional trauma as a result of their wreck.
If you've sustained injuries in a hit-and-run accident, contact a lawyer immediately. Our Phoenix accident attorneys at ELG have years of experience when it comes to fighting for victims and their families after a wreck. Call us at (623) 877-3600 for a free consultation and legal representation after a hit-and-run accident today.