The Most Common Accidents That Cause Personal Injuries in Phoenix
Personal injury is common everywhere and can occur from a slip and falls, dog bites, car accidents, motorcycle accidents, pedestrian accidents, or construction accidents to name a few.  Compiling statistics in the Phoenix area shows us the five most common accidents that occur here.
Vehicle Accidents
Motor vehicle accidents can occur from crashes that involved cars, trucks, motorcycles, or pedestrians and these are the most common type of accident that leads to a personal injury.  There were an estimated 14 car accidents that occurred each hour in the year 2016 in the state of Arizona.
Accidents in the Workplace
Construction sites pose some of the greatest risks due to the obstacles and debris, heavy equipment, and individuals who are working in very high locations. According to the Bureau of Labor Statistics, there were 882,730 occupational injuries and illnesses in 2017.  These issues caused many days away from work for the injured parties.  In 2016 in the state of Arizona, there were thousands of occupational injuries and illnesses which caused these individuals to also have to take time away from work to recover.
Slip, Trips, Falls
These accidents are far more common than most think. They can happen anywhere and they encompass much more than just a slip and fall.  Poorly lit hallways, debris on the ground, uneven pavement, wet and slippery surfaces, faulty carpeting, all of these issues and more can cause slips, trips, and falls.  When a business doesn't mark hazardous conditions or takes proactive steps to properly maintain their premises, and an individual enters, the business owner is liable for injuries and damages that person sustains as a result. Additionally, private homeowners can also be responsible for injuries on their property.
Slip and fall accidents can range from moderate to severe.  If you were on a business or other entity's property and you were injured as a result of a fall, don't wait to contact the Arizona slip and fall attorneys with ELG for your questions and for legal representation. 
Abuse in a Nursing Home
This sad and unfortunate occurrence on some of our populations most vulnerable is a serious problem. As the growing population ages, more people are in the nursing home system and as such, the incidents are increasing. Malnourishment, dehydration, neglect, bedsores, excessive restraints are all associated with nursing home abuse and the list doesn't end there.
Dog Bites
The most commonly affected group for dog bites are curious and naive children. When a pet bites and injures another party, the owners take on the responsibility for damages. Additionally in Arizona, if you don't own a dog but are responsible for its care, and under your watch, it bites another individual, you can be held liable for injuries.
The Need For A Phoenix Personal Injury Attorney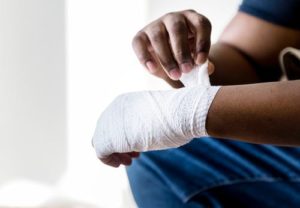 An experienced professional can evaluate your claim and provide you feedback on its strength as well as guidance and answers to your questions throughout the whole personal injury claim process.  An expert legal professional is able to make sure your suit goes smoothly and everything is done correctly so that you don't have your case thrown out.  In addition, these professionals provide you your best chance of obtaining your full amount of compensation. 
When you need legal representation for your injuries in Arizona, call our team of experienced and compassionate Phoenix personal injury attorneys today at 623-562-3838 to schedule a free consultation at either our Mesa or Pheonix offices.