Staying Safe in Phoenix During Halloween
October is a fun month for many kids. School is in full swing, the seasons are changing and cooler temperatures are just around the corner, pumpkins and jack-o-lanterns are abundant, and children are picking out their favorite costumes to enjoy time with their peers in the pursuit of candy. Many people enjoy the month of October and Halloween, not just kids. It can be easy to get caught up in the tricking and treating spirit, and if you are a Halloween lover you should enjoy the holiday but you should also make sure that you and your family are safe while you do. 
Negligent and reckless behaviors don't take the holidays off and Halloween isn't just the scariest day of the year because of the ghouls and goblins, but also because of the risks. Consider the following:
Children are twice as likely to be involved in a fatal car accident on Halloween.

Each year in the United States there are almost 4,000 Halloween-related injuries.

Fires are responsible for $13 million of property damages.

65 percent of parents don't discuss safety tips and instructions for Halloween activities with their children.

Over 50 percent of fatal motor vehicle deaths that occur on Halloween involve alcohol and over 85 percent of adults will bring alcohol to their Halloween parties.
Halloween Safety Tips
Halloween brings many people out on the streets, especially excited children running about and wearing costumes which increases the likelihood of accidents. In 2015, there were over 41 million children under the age of 14 estimated to go out for trick-or-treating activities. The shorter days also mean that many of the spooky activities take place during the night where visibility is not the best. Injuries happen, and if you or your child is hurt by a negligent or reckless party this Halloween, contact the Phoenix serious injury lawyers at ELG to help you with your accident situation. It is best to play it safe and try to avoid injuries, so here are some tips:
Keep costumes safe

by keeping dangerous objects out of the design. If you need to have a weapon as an accessory, like a knife, consider a soft version made of foam. Always have your children wear glow sticks, reflective clothing, glow-in-the-dark paint, and blinking light pins to ensure that they are easily seen in the dark. Additionally make sure that costumes aren't too big or bulky on your child to reduces trips, slip-ups, and falls.

Families and large friend groups should walk together and keep an eye on all those at the party. Younger children should always have their hands held to cross the street. Always choose well-lit streets as opposed to darker ones and make sure to watch your child walk up to each house and exit back to you at every stop.

When your child comes home with candy, check it to ensure it doesn't look like it was tampered with, never let them eat anything unwrapped, and always ensure that young children aren't eating candy that poses choking hazards.

Flashlights are helpful to ensure cars can see you and you can see potential hazards on the sidewalk.

Talk to your children about "stranger danger" and that they should never enter a car or a home of someone they do not know. This includes telling children to stay out of homes that are set up like haunted houses.

Drivers must drive alert, slowly, and not allow themselves to get distracted. If you or a loved one sustains injuries from a distracted driver, contact one of ELG's

Phoenix car accident attorneys

as soon as possible to ensure that your legal rights are protected.
Things To Do In Phoenix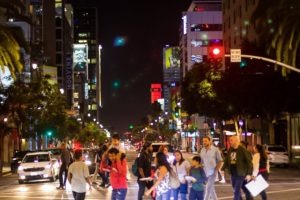 This Halloween, when you are out with your friends and family enjoying the holiday keep in mind these safety tips. Here are some fun local events to enjoy:
Spooktacular Mini-Golf

: October 1-November 3 in Mesa, free display of lights and decorations 

Underwater Superhero Spooktacular:

October 4-31 in Tempe, dress up like a superhero at SEA LIFE Arizona

Halloween Town Pumpkin Patch

: October 10-31  at Phoenix Premium Outlets, have fun in a pumpkin patch and take part in carnival activities such as rides, face-painting, and crafts.

Trick-or-Treat at the Museum

: October 31 at Children's Museum of Phoenix, trick-or-treating for kids and many other activities including making caramel apples and dancing the Monster Mash.

Halloween in the Hills

: October 31 at Avenue of the Fountains, businesses trick-or-treat event, entertainment, and bounce-house. 

Trick-or-Treat Main Street

: October 31 in Downtown Mesa, trick-or-treat with local businesses

Halloween Spook-Track-ula

: October 25-31 in Scottsdale, haunted fun park.
ELG hopes you enjoy your holiday. However, if you suffer an injury due to another's negligence while you are out, ELG's team of Arizona premise liability lawyers are here to help. You can call us at 623-562-3838 to set up a free consultation.