Tips for Safe Driving on Arizona's Interstate 10
Traffic accident statistics show that Interstate 10 in Arizona is especially dangerous for travelers. For those that are driving throughout the state, it is almost unavoidable not to have to use Interstate 10 to get from one place to the next. There have been many calls for improvements to the road that will help increase safety. The improvements are coming, slowly, but until the roadway has all the safety enhancements in place, drivers must be particularly vigilant while they driver on Interstate 10 in Arizona. 
Specifically, smaller cars should be aware of the dangers that are present not only from the roadway itself but also from other perils around them. Large trucks are plentiful on the highways in Arizona, including on Interstate 10. These large trucks are facing the same difficulties traveling on Interstate 10 that smaller vehicles are, but when a truck loses control from a road hazard the potential for more catastrophic outcomes increase. Big rigs can cause massive destruction when they are involved in accidents, and when they collide with smaller passenger vehicles, it is the occupants of the smaller car that are at the most risk for devastating outcomes. 
How to Stay Safe Driving On Arizona's Interstate 10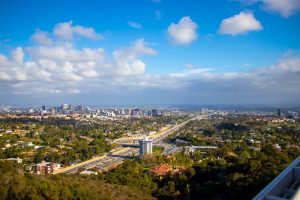 If you have been in an Arizona traffic accident and sustained injuries, take your case to the Arizona personal injury attorneys at ELG. The Phoenix car accident attorneys at ELG will examine your accident situation and provide you with options to obtain compensation for your damages. The attorneys at ELG only work on Arizona personal injury cases, and our bilingual, Spanish speaking team will help you see the best outcome possible after your injury accident.
Due to the high number of fatal and serious accidents that happen on I-10, drivers should take extra precautions while traveling across this roadway. The following tips can help increase your safety when you are driving on Arizona's I-10:
Make sure your headlights are in good working order. Lighting is an issue on interstate 10, so keep those headlights clean from debris and adjusted forward so that you can see as clearly as possible. If you can, avoid driving during the night.

Speeding is dangerous on every road, but especially because of the lack of median barriers on I-10 keep your speed in check.

Position yourself for safety by driving in the middle lanes so that you reduce the risk of accidentally swerving into oncoming traffic. A head-on collision with a large 18-wheeler will produce disastrous results.

Should you encounter a dust storm on the road, slow down and put your headlights on. Then be alert to the nearest exit where you can safely exit the interstate. 
Speak with an Arizona Personal Injury Attorney Today
After an accident, you deserve to recoup compensation for the losses you suffered. The Phoenix truck accident attorneys at ELG will help you build a strong Phoenix personal injury claim to secure a fair settlement. The money you obtain in your settlement can help you recover and heal, as well as rebuild your life. Call ELG today to schedule your free consultation (623) 877-3600.