Understanding Arizona Motorcycle Laws
Motorcyclists are expected to follow the rules of the road like every other driver. They also have a specialized set of laws that they must adhere to. The laws that are specific to motorcyclists are not to be cumbersome on bikers, but rather to help better protect them when they are on the road. Safety equipment, properly working lights, many things that will help them be better seen by other drivers on the road as well as offering necessary protection from the elements and in the event of a crash.
What Are The Arizona Motorcycle Laws?
 In Arizona, all motorists, motor vehicles, trucks, and motorcyclists alike must:
Share the road. Motorcyclists have the right to use the full lane the same as other motor vehicles. It is unlawful for any motor vehicle to deny motorcyclists of using a full lane.

Motorcyclists may not pass other vehicles using the same lane the vehicle they wish to pass is using.

The maximum amount of motorcyclists that can share a lane is 2

Motorcyclists aren't allowed to lane-split or riding between two lanes
In order for a person to ride a motorcycle lawfully in the state of Arizona, Title 28 indicates that they also must:
Motorcyclists require a special license to drive their bike, it is a

Class M license

All riders or drivers who are under the age of 18 must be wearing a helmet

In the absence of a protective windshield on your motorcycle,  you must use glasses, goggles, or a transparent face shield

All motorcycles must have a rearview mirror, a seat, and footrests

Motorcycles must have the original manufacturer's muffler, or have noise reduction parts when the muffler is absent

All motorcycles must have a minimum of one or a maximum of two headlamps
What Type Of Insurance Do Motorcyclists In Arizona Need?
Motor vehicle drivers and motorcyclists must both have liability insurance and the state of Arizona defense the minimums as the following:
$15,000 for bodily injury or death (when one person is harmed)

$30,000 for total bodily injury or death (when more than one person is harmed)

$10,000 for property damage
Do You Need A Motorcycle Accident Attorney In Arizona?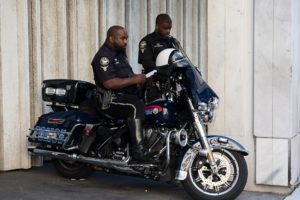 After you have been in a motorcycle accident in Arizona, you need the resourceful and qualified help of the Phoenix motorcycle accident injury attorneys at ELG. We have dealt with many motorcycle accidents and provided victims with effective legal representation. 
The bilingual team of Arizona serious injury attorneys care about victims' rights and know how important it is to obtain the most compensation after your accident to help you with your medical costs, personal property damages, missed wages, and emotional trauma. We will fight the insurance companies on your behalf and aggressively negotiate so you obtain a fair settlement. 
Your free consultation is quick and simple to schedule.  Call our Arizona motorcycle accident injury attorneys at ELG today at (623) 877-3600. The legal team at ELG is looking forward to meeting you and discussing your accident experience.