Updated Arizona Booster Seat Laws
If you are a new parent or if you have young ones and are new to the state, it is important to stay up to date on Arizona's booster seat laws. Not only will familiarizing yourself with these laws keep you in good standing in the state, but also keep your child as safe as possible when you are traveling on the open roads. In our state, most young children, aged 5 to 7 are required to be in a booster seat when in a car.
The experienced and passionate Phoenix automobile accident injury lawyers at ELG have a solid reputation as one of the very best personal injury law firms in Arizona. We specialize in personal injury cases, and as such we review a wide variety of cases. Unfortunately, that means we see some of the most horrific and tragic. That includes children badly harmed or killed from being involved in traffic accidents. Especially when a child could have had their lives saved or injuries reduced by sitting in the proper seat, it is important for every driver to know what guidelines are in place to protect children in cars.
What Are The Child Passenger Safety Laws In Arizona?
In 2012, child passenger safety laws were revised and updated so that details relating to booster seat guidelines. The laws used to allow young children to simply sit in a car with a seatbelt when they turn 5. The new laws have changed this to require young children aged 5-7 to be in a booster seat while in the car. And any child under 57" is also required to be sitting in a booster seat in a car.
According to the National Highway Traffic Safety Administration (NHTSA), car crashes cause the most deaths in young children aged 1 to 13 in the country. This is why it is so critically important that you always put your children in the appropriate safety seat when you are in the car for absolutely every trip. The NHTSA outlines the process by which all parents and caregivers should adhere to for finding the right car seat and installing it properly.
Find

the right car seat

, you can use numerous sources to help you

Install your car seat correctly by using the car seat's manual, watching online tutorials, attending a safe installation event, or finding a local

certified child passenger safety technician (CPST)

to help you

Register your car seat and make sure that you sign up to receive all recall notices and safety updates
Has Your Child Been Hurt In An Arizona Auto Accident?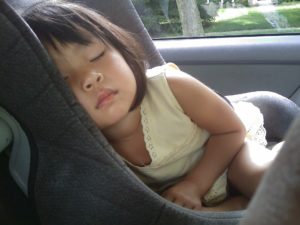 Car accidents in the United States happen all the time. There are more than 6 million accidents that take place every year in the country. If you have been in an accident and you or a loved one sustained injuries you deserve to have your legal rights protected. The Phoenix serious injury attorneys at ELG will fight on your behalf so that you obtain the much-needed compensation that you need to get the care required to heal from injuries. 
Call ELG today at (623) 877-3600 to set up your free consultation at either of our locations in Phoenix and Mesa, Arizona for your convenience.