What are the Most Common Personal Injury Accidents?
When an accident takes place it can cause a myriad of negative outcomes including injuries and death to those that are involved. Out of all the accidents that happen regularly, there are three specific types that happen very frequently. Typically, when a person is a victim of an accident that was not their fault such as a car accident, the victim can pursue an Arizona personal injury claim to obtain compensation for their damages. Working with an Arizona personal injury attorney, a victim can be assured that they will obtain the highest settlement amount after their accident.
What are the Main Causes of Personal Injuries?
While an accident can happen to anyone anywhere, there are specific situations where personal injuries happen at a much higher rate, and these include:
Slip and fall accidents happen all the time. Older adults tend to be the

most vulnerable to

slip and fall accidents

due to many factors including decreased muscle mass and imbalance issues to name a few. Regardless of age, anyone can suffer a slip and fall injury. Walking on an icy pavement, on a wet slippery surface, on uneven pavement, or when obstacles are present can all be sources of slip and fall injuries. Every year there are more than 8 million emergency room visits due to fall accidents. Slip and fall accidents can happen in parking lots, in stores and retail establishments, restaurants, or at private residences.

With over 270 million cars on U.S. roadways, statistically, car accidents are going to happen at a high rate. There are more than 6 million traffic accidents reported every year in the country and because of this, traffic accidents top the list as one of the major sources for personal injury. There were over 129,700

Arizona car accidents

that took place in 2019 alone. Engaging in safe driving practices helps lower your risk for a car accident, but it doesn't eliminate it. There isn't anything that can completely remove the possibility of a car accident when you are driving.

Defective or malfunctioning products are also a major reason for personal injuries. In  2010, there were close to 40 million Americans that required medical care for the harm they incurred using a consumer product.
What to do After an Arizona Personal Injury?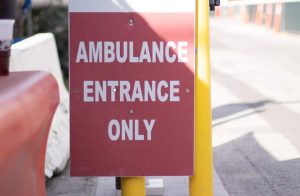 When an accident happens and you or a loved one are injured you may be entitled to obtaining compensation for your damages. Depending on the details of your accident situation, an Arizona personal injury claim could be warranted. If you are unsure about your accident situation and if you can file an Arizona personal injury claim, you can have all of your questions answered by the Arizona personal injury attorney at ELG.
Call the bilingual, Spanish-speaking Phoenix personal injury attorneys at ELG today at (623) 877-3600 to schedule your free, no-obligation consultation. A consultation takes only a short amount of time but will provide you with valuable information concerning your legal rights and options to obtain compensation after your accident experience.