What Can You Do When Your Insurance Claim is Denied?
Countless Americans count on insurance policies to help them through the difficult aftermath of auto accidents; to aid them in that act, insurance companies have a duty to defend their claimants, providing reasonable compensation in a timely fashion. However, they can and do still decline claims, which can leave you financially stranded under the weight of excess damages and bills.
Why Insurance Claims Are Denied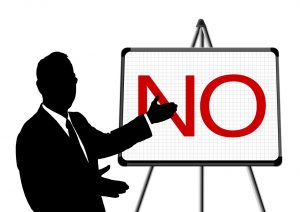 In order to deny an insurance claim, the company must have a specific, citable reason which falls into the realm of debatability and doubt; they don't have to prove unquestionably that a certain term was breached or that you're guilty of anything. Additionally, while insurance adjusters do have to perform their duties by law, they don't have to act honestly and fairly. If your claim was denied by an insurance company, you should scrutinize the reasons they provide to make sure foul play wasn't involved. First, let's look at valid reasons your claim might have been denied:
You're predominantly at fault or could have done something to avoid damages.

If your accident, or an injury you sustained, was easily preventable, you might be ineligible for a portion or all of your compensation.

You have pre-existing conditions or poorly documented medical evidence.

In either case, insurance adjusters will downplay your injuries and claim that anything you suffer from was sustained before or after the crash, and as such, is unrelated to your attempted claim. This is especially true for

delayed-onset injuries

.

You waited too long to receive treatment or file your claim.

If you delay treatment, adjusters will argue that your injuries degraded as a result of your negligence, and when you fail to report an accident promptly, adjusters will start to ask why you didn't do so immediately. 

You breached the terms of your insurance policy.

Of course, if you broke your contract or otherwise acted in a way that breaks your agreement with the insurance company, they can cut off your coverage altogether according to the terms set forth in the policy.
Handling Denied Auto Accident Claims in Arizona 
Even if the reason an insurance company provides for denying your claim is "valid" and legal, you can still argue it in many cases. Remember that insurance companies need only justify themselves to a point of debatability—if you provide new evidence or logic that renders the insurance company's doubts as undebatable or unreasonable, you can then receive a proper claim. ELG's Arizona auto accident attorneys can help you prove just that, securing you a settlement you deserve, so give us a call at (623) 877-3600 to schedule a free consultation and learn more.
At times, however, insurance companies will act in "bad faith," meaning that they declined or devalued your claim in an unreasonable fashion:
Failing to convey essential information, such as the reason your claim was declined.

Responding to queries and claims in an unreasonably slow fashion.

Offering a settlement amount that is excessively and unreasonably low.

Harassing a claimant or making false accusations of them.

Refusing to perform an investigation or pay your claim without proper reason.
Arizona bad faith laws render these actions illegal; they should never be tolerated by a claimant; catching an insurance company in the act of bad faith is grounds for a full, proper settlement, alongside extensive punitive damages and compensation for your struggle.