What Factors Make a Bike Helmet Safe?
With the numbers of fatal bicyclist accidents rising, it is more important than ever to continue to urge the public to wear a properly fitted helmet when they get on their bike. While the most bicycle-related fatal accidents across the country happen in the warmer months of the summer, in Arizona our mild climate allows for bicycle riding throughout the year. For adults who use their bikes to commute to work or for daily errands, bicycling frequently may make it easier to be lax about the perils that exist on the road.
The most common injury from bicycle accidents is head trauma that results in brain injuries. Adults make up 88% of all fatal bicycle accidents in the country. The single most important piece of equipment a bicyclist can have is a quality helmet. While wearing a helmet can not stop an Arizona bicycle accident from happening, it can be an effective tool that reduces the severity of injuries and the risk of death in the event of an accident.
How to Find the Safest Bike Helmet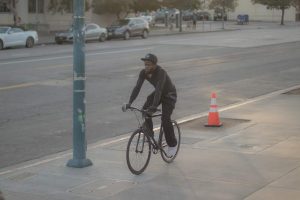 According to the Governors Highway Safety Association, a bike helmet reduces the risk of a head injury in an accident by over 50%. To put it bluntly, bike helmets have the potential to save lives. Bike helmets are rated. The old way that these helmets received their rating was to go through tests that were aimed at very serious injuries like a fracture in the skull. They were not tested against more common injuries that take place in bike accidents that also result in long-term damages. 
Now, through research done at Virginia Tech University in combination with the Insurance Institute for Highway Safety, a new rating system has been put in place. This system address both the severe impacts as well as the more mild impacts. Researchers at Virginia Tech are hoping that their findings will be used by the helmet manufacturers to make the necessary adjustments to their products for improving safety. The cost of a helmet isn't necessarily correlated with safety. Instead, the style and design of a helmet have more direct links to safety.
More and more, rising numbers of people are choosing to ride their bicycles to get from one place to the next. Because of this, determining out which design is the best to keep bicyclists safe is utterly important. However, it still comes down to bicyclists deciding to regularly wear their helmets every time they go on a ride. Reports suggest, that many Americans, more than half, say they don't wear a helmet when they ride a bike. In 2016, the majority of fatal bicycle accidents were bicyclists who were not wearing a helmet.
Speak to an Arizona Bicycle Accident Attorney Today
Bicyclists are incredibly vulnerable to severe head trauma and death if they are in a collision with a motor vehicle. If you have been hit and injured in a Phoenix bicycle accident, call the Phoenix automobile accident injury attorneys at ELG. Our team of Spanish-speaking, bilingual Phoenix serious injury attorneys will provide you with the legal resources and guidance you need to secure the most compensation in your Arizona personal injury claim. Call the Arizona personal injury attorneys at ELG today to schedule your free consultation at (623) 877-3600.