What Happens After a Phoenix Motorcyclist is Struck by a Drunk Driver
The likelihood that a collision between a car and a motorcycle will be devastating and deadly is quite high. Motorcyclists are at an increased rate for serious injuries and death from crashes when compared to any other vehicle on the road. The National Highway Traffic Safety Administration (NHTSA), says that in 2018 there were close to 5,000 deaths from motorcycle accidents in the United States. Motorcyclists have an increased rate of injury, approximately 8 times more, than that of people in passenger vehicles when in a crash.
Drunk driving is never acceptable. It is risky, dangerous, and reckless. Most motorcycle accidents happen because the rider loses control of their bike or other vehicles are unable to see them on the road. There are other times, though, when a drunk driver collides with a motorcyclist and the collision ends with the biker sustaining injuries or losing their life.  If you were injured by a negligent drunk driver, you have rights that need to be protected. Speaking with an experienced Phoenix motorcycle attorney is a sure way to ensure you receive your due justice.
Motorcycle Accident Injuries In Phoenix
Head injuries and brain damage are the leading causes of death in motorcyclists. This is why it is vitally important that every rider wears a helmet every time they hit the road, no matter how short or long their trip may be. Motorcyclists are often thrown from their bikes and when they land on their heads the impact is immense. To find information on the safest motorcycle helmets as well as information on how to correctly wear a helmet, the Snell Memorial Foundation is a good place to look.
A helmet won't eliminate a rider's risk for death or serious injury. However, the NHTSA says that helmet use can reduce injuries by 37 percent in the event of a crash. In addition to head and brain trauma, motorcycle accidents inflict injuries that include:
Lacerations

Broken bones

Bruises

Internal organ damages

Muscle tissue damage and tears

Emotional distress and trauma

Traumatic Brain Injuries (TBI)
Not only are helmets important for physical and mental safety while riding a motorcycle, they also are important legally. Not wearing a helmet could impact the compensation a victim can receive in their personal injury claim. The argument can be made the injuries suffered were due in large part by the failure of the driver to wear a helmet. 
Finding Help For Motorcyclists After Being Hit And Injured By A Drunk Driver In Arizona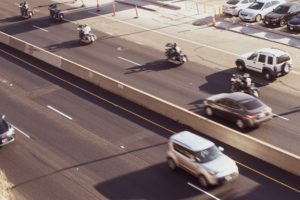 A qualified and experienced Phoenix personal injury attorney at ELG can help you pursue compensation for your injuries and damages after a crash caused by a negligent driver. One of our legal professionals will guide through the personal injury claims process and answer all of your questions after your accident. 
Do not hesitate to reach out and contact the attorneys at ELG today. We are here to discuss your accident during a completely free consultation. Call us at either our Phoenix or Mesa motorcycle accident injury offices at 623-562-3838.