What Happens If Your Dog Bites Someone in Arizona?
Watching your dog bite someone can be just as terrifying as being the victim yourself, as you may suddenly be faced with the prospect of extensive claims levied against you and the possibility of losing your dog. In Arizona, if your dog bit someone, it's likely that you'll be liable, but that depends on whether or not the victim was doing something explicitly wrong at the time.
Your Legal Responsibilities
Regardless of who's to blame, you'll still have several legal responsibilities to oblige after your dog bites someone, even beyond the general steps after a dog bite you or the victim should take:
Report the bite to animal control.

Quarantine your dog while their fate is decided.

Talk to an

Arizona dog bite attorney

for other local requirements.
Arizona's statute of limitations will give the victim a full year to file a claim for compensation, but it's likely that you'll have to worry about it far sooner than that. In such a case, you'll need to understand why you could or could not be liable for their damages.
Liability for Arizona Dog Bites
Unlike many states, Arizona doesn't practice "one-bite" leeway, meaning that owners don't get any freebies. Even if your dog is the gentlest, kindest animal without any history of violence, you'll still be held liable the very first time they bite someone. Furthermore, you don't even have to be negligent to be liable, as long as the victim proves that their injury came from your dog. Arizona's dog bite liability laws dictate that you'll be legally responsible for the bite if: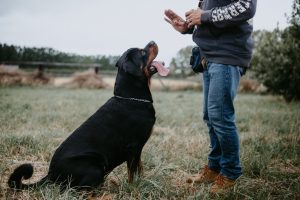 The bite occurred while the victim was lawfully on the property,

whether due to being on public property or having reasonable rights to be on private land. Trespassing generally renders the victim liable for any bites they may sustain as a result, unless the owner was so wildly negligent that even a trespasser shouldn't reasonably have been hurt. This may be the case if the owner knew that their dog was a danger to others, yet they failed to post visible warnings on their property or generally restrain their dog.

The victim didn't provoke the dog or invite harm on themselves,

therefore nullifying a self-defense argument. Demonstrating that provocation occurred is difficult without eyewitness accounts or security camera footage, but not necessarily impossible. 

You failed to take basic steps to protect others,

such as by keeping your dog on a leash. Leash usage is furthermore a legal requirement in most every city in Arizona, so you could face criminal charges for failing to keep your dog close.
Furthermore, you likely won't be liable if your dog was stolen at the time of the bite, or if it was under the care of a reasonably responsible individual. In the latter case, that caretaker could be liable if they failed to take reasonable precautions to prevent dog bites.
ELG's experienced Arizona dog bite attorneys can help you navigate these dire straits, so give us a call at (623) 877-3600 to schedule a free consultation today. We can walk you through every step of the claims process and help you reach the best outcome, giving you as much peace of mind as possible.