What is a Diminished Value Claim?
If you've sustained injuries in a car accident, it's important to know your next steps. However, the ins and outs of accident claims can be intimidating, especially if you've sustained injuries. You may be dealing with medical bills, long-term physical problems, and emotional trauma. Dealing with insurance companies in the midst of everything else can be daunting for victims and their families.
For these reasons, many victims accept only a portion of the compensation they are entitled to after an accident. Insurance companies rarely offer a victim's fair compensation, particularly when it comes to the value of your vehicle. For example, some dealership managers can diminish the value of your vehicle by almost 20% or even 30% following frame damage.
Furthermore, some insurance companies may fight your claim altogether. That's why it's important to know how to negotiate with insurers in the aftermath of an accident.
If you've sustained injuries in a car accident in Arizona and want to file a claim, contact the Arizona car accident lawyers at ELG. Our team of auto accident lawyers in Phoenix and Mesa is here to help you safeguard your legal rights and negotiate with insurance companies after an accident.
What is Diminished Value?
First, it's important to know about diminished value. Diminished value is the difference between your vehicle's value before an accident and its value after repairs. A body shop can restore the appearance of your vehicle, but it's impossible to restore a damaged car to its factory condition. Though individuals can receive compensation for diminished value in Arizona, diminished value claims must be properly proven.
Keep in mind that you should make a claim for diminished value as soon as possible. A victim of a car accident in Arizona has two years after their crash to submit a diminished value claim in order to be compensated. Plus, many settlements contain an exclusion clause. This clause prevents victims from making additional claims, including those for diminished value. If you don't file your claim initially, you won't be able to file after the fact.
Types of Diminished Value in Arizona
There are a few types of diminished value in Arizona. True to its name, immediate diminished value is the loss of value that results immediately after an accident occurs. Insurers calculate this based on the difference between the market value before the crash and the damaged value of a vehicle.
Inherent diminished value is another type, describing the loss of market value due to a vehicle being in a crash. Even though professionals can fix and restore your vehicle, inherent diminished value states that it can never return to its original value. Essentially, it's the loss of value as a result of the crash happening, which is unavoidable.
Finally, repair-related diminished value refers to any additional loss that occurs because of the repair process. This could happen if a body shop performs improper or incomplete repairs, from aesthetic issues to serious structural problems.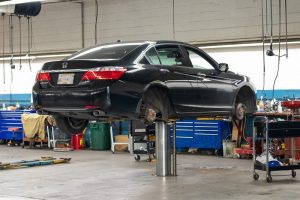 Can I Recover Diminished Value?
Victims and their families may find it difficult to recover diminished value. The burden of proof is on the victim filing the claim. To start, victims must collect all relevant information about their vehicle and the accident. Additionally, adjusters are better able to evaluate properly maintained and accurately valued vehicles.
Personal Injury Lawyer in Phoenix
The best way to ensure your accident claim is successful is to consult your attorney after a crash. Your lawyer will help you organize the facts of your case and act as a liaison to insurance companies. Collaborating with your attorney on these issues will help make your recovery process smooth and stress-free after an accident that occurs through no fault of your own.
Contact our Phoenix injury lawyers at ELG today at (623) 877-3600 for a free, no-hassle consultation and learn more about your legal rights after you've suffered in an accident.