What to Do If a Drunk Driver Hits You
Automobile accidents can be very dangerous especially if alcohol is involved. These accidents can be fatal or cause life-threatening injuries. The CDC reported that 28 percent of all traffic-related deaths involved an alcohol-impaired driver in 2016. These accidents could involve injuries or destruction of property. According to the United States Department of Transportation, each day about 30 individuals die in drunk driving accidents. This means one person dies every 48 minutes from a drunk driver. Knowing what to do at the scene of an accident is important, but it is more critical when the person driving is under the influence. Listed below are steps to follow after a collision occurs.
Steps To Take If You Have Been Hit By A Drunk Driver
Call 911
If you are alert and able to grab your phone, always call 911 directly after an accident occurs. It is important to get emergency dispatchers out to the scene immediately to evaluate the scene. The police will be notified as well so they can come fill out a police report. A police report is a crucial piece of evidence in any legal matter. That document will highlight what happened at the time of the accident. Furthermore, if there are injuries of any degree, emergency dispatchers will send medical assistance to treat you.
Gather Information From The Accident Scene
After you call 911, you should try to gather as much information as possible. Things to make note of are the other driver's vehicle and license plate number, the other driver's name, their insurance information, and any pictures of the vehicles and surrounding property. All of this information will be incredibly useful when filing a claim. All of this is more evidence to help uncover exactly what occurred during the accident.
Seek Medical Attention 
Even if you don't believe you have an injury, go see a doctor to get a medical evaluation. Accidents are very stressful and they can cause you to not feel immediate pain of an injury. Sometimes injuries arise a few days or weeks after an accident occurs. If you don't go to the doctor right away to get diagnosed, it will be difficult to prove your injuries were related to the accident. 
Reach Out To A Lawyer
An insurance company might try to reach out to you after an accident and pressure you to sign a settlement quickly so they don't have to pay you as much. Do not sign any documents. It is in your best interest to reach out to an experienced attorney as they will work for you and want the best for you. Insurance companies are only concerned about themselves and keeping their payments low. An attorney will assist you with your legal matter and help you file a claim.
Finding An Arizona Automobile Accident Attorney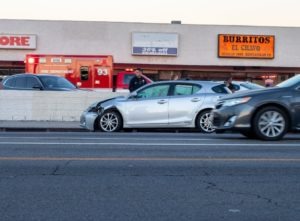 If you have sustained injuries in a car crash from a drunk driver, follow the steps above and reach out to an attorney for legal advice. An auto accident attorney at ELG can help you with your legal matter. Our team of knowledgeable Phoenix attorneys wants to help you recover compensation. They will compile facts about your accident, determine the best claim to file, and answer all of your questions along the way. Contact us today at either Phoenix or Mesa Arizona law offices at (623) 877-3600 for a consultation.