When Do Car Accidents Most Frequently Occur?
There are many factors that play a role in determining the most dangerous times to drive. Some of these factors can be very unpredictable and irregular. A lot of these factors that affect when accidents occur include the time of day, the day of the week, the weather, and types of drivers. During rush hour, it is crucial to pay extra attention to the road because there are such a high number of motorists on the roadways.
Arizona Car Accident Statistics- Peak Times and Dates
There are many factors that contribute to car accidents. The Arizona Department of Transportation researched different days and times that accidents occur most often on Arizona roadways in 2018.
Friday was the day that had the most crashes.
Saturday was the day with the most fatal accidents.
The month of October had the most crashes.
The peak hour for accidents to occur was from 4 p.m. to 5 p.m.
The peak hour for fatal accidents was from 8 p.m. to 9 p.m.
90,127 accidents occurred during the daytime.
30,939 accidents occurred at night.
Dangerous Times to Drive
 Rush Hour- Rush hour s a very dangerous time to drive. Rush hour is typically Monday through Friday from 6 a.m. to 9 a.m. and 3 p.m. to 6 p.m. This is the time when drivers are in a rush to make it to work on time or leave work to go run errands and accomplish other daily life tasks. People oftentimes drive frantic during this time because they didn't allow enough time to arrive on time to their destination. This affects everyone who is driving on the roadways during this time. It is important to be aware of your surroundings while driving through rush hour and be prepared to stop abruptly.
Summer Season- The summer season is a dangerous time for drivers because inexperienced teenagers are behind the wheel. Teens are already at a disadvantage because they are new to driving, but they also have summers off of school which means they are on the roads more. They also are more distracted because they are typically always driving their friends around. Since they have excess free time, this leads to reckless behavior and more accidents.
Holidays- The holiday seasons are one of the most dangerous times to travel via car because there are a lot more people on the roadways. Additionally, the holiday season means there are family gatherings, which often involves alcohol and long nights. After a long day celebrating with the family, it can be difficult for drivers to stay awake during busy driving times. This can lead to a higher risk of accidents occurring.
Finding An Arizona Automobile Accident Attorney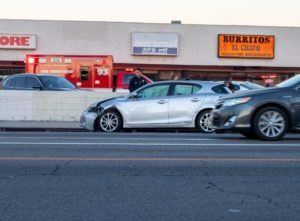 If you or a loved one has suffered injuries due to the negligent actions of another driver, find out how an automobile accident attorney at ELG can help you. The auto accident attorneys at ELG will help file a claim on your behalf. Our team of knowledgeable Phoenix attorneys will research to determine the correct legal claim for your situation so you can focus your personal recovery process. Our attorneys strongly believe you deserve the maximum amount of compensation. Contact us today at either Phoenix or Mesa Arizona law offices at (623) 877-3600.