Who is at Fault When a Child is Injured on a School Field Trip?
It is school time and your little ones can have a lot of fun and exciting field trips coming up with their school. While these trips are often looked eagerly forward to by little ones they also do pose a risk. Accidents happen anywhere and a child on a school field trip is no exception. When your child falls and injuries themselves during their trip, falls off a ride, is hit by a piece of farm equipment parents have the right to file a personal injury claim for the damages and injuries done to their child. The question many parents have is, who is at-fault in a school-trip situation?
Who Is At-Fault During A School Trip Accident?
There can be multiple parties who own responsibility for your child's injuries while on a school field trip. The school itself must protect your children and the business or premises that is being visited also have a duty to be safe to the public. If there are hazards at a business they must be made known to the public. Failure to keep their premises safe can manifest themselves in a variety of ways including:
Not keeping the property maintained and safe. Not keeping equipment maintained, or allowing defective equipment to be used by the public.

Not having warning signs over known hazards.

Not having a safe environment such as failure to have guardrails where necessary, keeping slippery surfaces, uneven grounds, unclean surfaces, etc.
When a business fails in its responsibility to keep the public safe, they can be held accountable by parents for injuries to a child. 
Additionally, the school can also be held accountable. The school is responsible for the supervision of the children and ensuring that everyone is where they need to be. If a teacher or supervisor fails to account for your child you may be able to file a suit against the school. In most situations, though, when a child goes on a field trip they bring home a waiver for parents to sign before they are allowed to go. This paperwork can be difficult to navigate and can be a sticking point. But they are often not completely legally binding which means that even in the case of signing a release of liability you may still have a case with the school.
When Your Child Was Injured On A School Field Trip Contact ELG For Help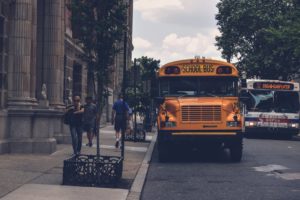 It is heartbreaking when your sweet child goes to school and is so excited to go on a trip and it ends up going awry. If they sustained serious injuries due to the negligence of the school, the business, or both, you deserve to have the medical expenses associated with their injuries are taken care of. Pursuing a personal injury claim is necessary and the Arizona personal injury lawyers at ELG can help you put a solid claim together.
Our team of Phoenix serious injury lawyers specializes in personal injury claims and we know how to examine victim's situations and provide a direct path forward for compensation.
After your child is injured in an accident at school, call the lawyers at ELG with any questions and to set up a free consultation to discuss the details of their accident situation. The resourceful lawyers at ELG are looking forward to providing you guidance and support. Call us at 623-562-3838 and you are welcome to meet with us at either of our locations in Phoenix and Mesa, Arizona for your convenience.